I think I have a thing for chickpeas. Every time I see them in a recipe, it's instantly bookmarked. Add the word curry and we're in business. This dish may sound familiar since I have a Chickpea Curry with Cashews on the blog, but they are pretty different. This Chickpea Curry with Rice has a tomato-based sauce and isn't quite as full of spice as the one with cashews. I loved the sauce in this dish. Hearty chickpeas surrounded in a creamy, yet figure-friendly yogurt sauce.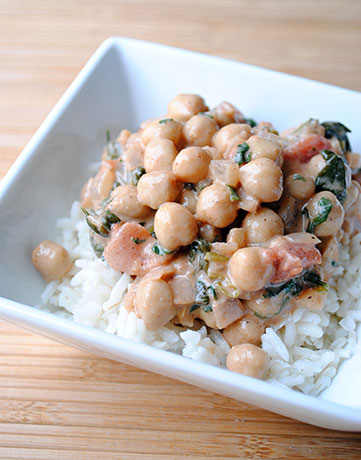 So, how's it taste?
I really enjoyed this dish and thought that might be the case since I loved the other chickpea curry recipe. It's refreshing due to the yogurt sauce, but hearty and very filling thanks to the chickpeas and rice. The crushed tomatoes were a nice touch, too. It became this creamy, tomato sauce and I couldn't get enough of it. Usually I really like spinach in dishes, but for this one, I kept noticing how the spinach gave an odd texture to the dish. Normally I chop the baby spinach to avoid this and didn't this time. I'll be sure to do that next time I make it. I don't like getting globs of spinach in my mouth. I also upped the yogurt a bit. I hate to waste food, so instead of using 1/2 cup of yogurt, I used the full 6 oz. serving. I'm a sauce lover, so it only made it more decadent. The recipe calls for 2%, but you could certainly make this with lower fat or fat-free Greek yogurt. Both work very well.
This is great meal that comes together in no time and is very satisfying without being heavy…all for only 305 calories!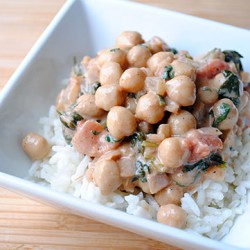 Chickpea Curry with Rice
Ingredients:
1 (3.5 oz.) bag boil-in-bag basmati or brown rice
1 tbsp. canola oil
1 large onion, diced
1 1/2 tsp. garam masala
2 (15 oz.) cans chickpeas, rinsed and drained
1 (15 oz.) can unsalted crushed tomatoes
1 (6 oz.) package fresh baby spinach
1/2 cup plain 2% Greek yogurt
1/2 tsp. salt
1/4 cup chopped fresh cilantro
Directions:
1. Cook rice according to package directions; drain.
2. While rice cooks, heat a Dutch oven over medium-high heat. Add oil to pan; swirl to coat. Add onion; sauté 5 minutes or until tender, stirring frequently. Stir in garam masala; cook 30 seconds, stirring constantly. Add chickpeas, tomatoes, and spinach; cook 2 minutes or until spinach wilts, stirring occasionally. Remove from heat; stir in yogurt and salt. Sprinkle with cilantro. Serve over rice.