I'm not sure I've ever discussed on this blog that I don't like melon, and I mean anything melon. No watermelon, no canteloupe, and especially no honeydew. Even that Midori stuff gives me the heebie jeebies. I have no explanation for it and what makes it even more weird is that I ate watermelon and canteloupe as a kid. No clue what happened. Cucumbers also fall into this category. They are very melony, if you will. I want to like them, they look so good and fresh. What I've discovered about cucumbers is I may not like them by themselves or in huge chunks, but I will totally devour them sliced very thin on a sandwich (like this chicken salad or this Mediterranean sandwich) or diced very small in this Tzatziki Sauce! I had four cucumbers that I needed to use and a big tub of hummus that was about to expire. So you see how my mind went to homemade tzatziki sauce.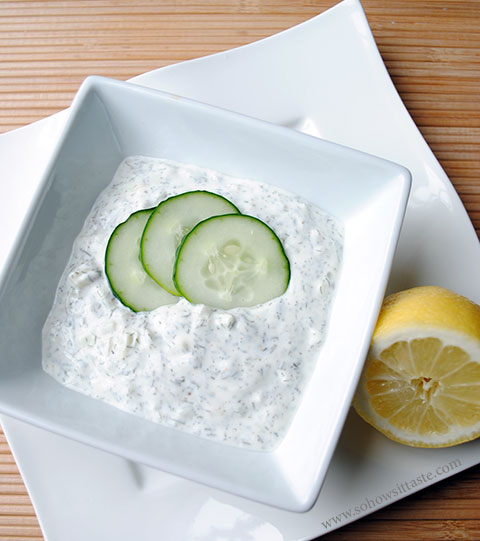 So, how's it taste?
I wasn't expecting much. I'd had tzatziki sauce many times before and liked it, but it's just sauce, right? Wrong! Holy mother of freshness did this homemade version blow my mind. You probably already have all the ingredients on hand, which recipes like that make me do a happy dance. It's fresh, tangy, and just a bit of bite from the garlic. You can grate your garlic if you prefer, but I liked it in this sauce minced. I diced the cucumber very fine, and it was perfect for a dipping sauce. And dip I did!
I polished off this entire batch in two separate stints of me standing in the kitchen, hovered over the bowl, shoveling it in on pita wedges as fast as I could. I have no shame. Eight servings, schmeight servings. You know what else is really freakin' delicious? Take your pita wedge, first dip it in hummus, then dip that in the tzatziki! You can thank me later.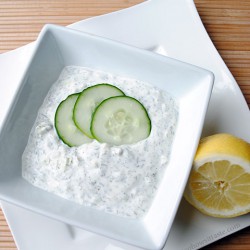 Tzatziki Sauce
Ingredients:
2 cups plain, nonfat Greek yogurt
2 cups cucumber, very small dice
1/2 cup fresh dill, minced (or 2 tbsp. dried)
1/4 cup fresh lemon juice
2 garlic cloves, minced
1/2 tsp. seasoned salt
1/4 tsp. pepper
Directions:
1. Mix all ingredients in a medium bowl until well combined. Taste for seasoning and add more of any ingredient to adjust to your liking. (I added a tad more salt to mine.)
2. Serve immediately with pita wedges or store in the refrigerator for up to 5 days.