I couldn't wait for my friend Amy over at Fearless Homemaker to post this Slow Cooker Mexican Chicken. When she tweeted a picture of the results, I was instantly hooked. I love slow cooker meals because they are so easy and make your house smell amazing. This one with chicken and Mexican ingredients seemed right up my alley. I served it over rice speckled with fresh cilantro and it was as delicious as I had hoped!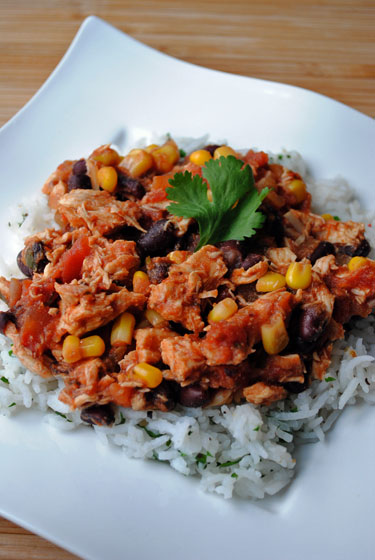 So, how's it taste?
It was pretty fantastic. Meat out of the slow cooker is so tender and this recipe has corn, black beans, and tomatoes. I used a medium heat level salsa and it was packed with heat. Use mild if you prefer. The jalapeno adds more heat, but you want to discard it after it cooks so it doesn't continue to add heat to your leftovers. This dish has so much flavor with all the spices. I just loved it. One serving is a cup, which is a lot, and is only 195 calories! Bonus! I served a scoop of this over half a cup of rice. A nice, very filling, low-calorie meal.
Another plus is that this meal freezes well. I froze 1-cup servings in freezer bags, so I can heat one serving at a time as needed. Great for a quick dinner. Do make a note to check your chicken for doneness at about 4 hours. I think cubing the chicken makes it cook faster than adding the chicken breasts whole. Mine was a tad bit overcooked at the 5 hour mark. If you want to skip cubing the chicken, you certainly can. Simply mix all your spices in with the salsa mixture and stir. Add your chicken breasts to the top. They will take longer to cook, but the results should be the same. Shredding may be easier with whole chicken breasts as well.
I hope you enjoy this easy meal as much as I did. Check out Amy's cilantro-lime rice recipe. It goes great with this chicken! Also, if you like this dish, you'll also enjoy my Slow-Cooked Jambalaya-Style Red Beans & Rice. Time to get your slow cookers ready!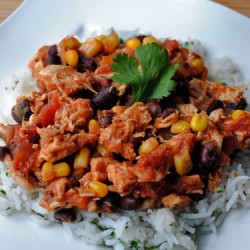 Slow Cooker Mexican Chicken
Ingredients:
4 chicken breasts, cubed
1 tsp. chili powder
1 tsp. garlic powder
1/2 tsp. cayenne pepper
1 tsp. onion powder
1 tsp. cumin
1/2 tsp. freshly ground black pepper
1/2 tsp. salt
1 16 oz. jar salsa (I used medium)
1 14 oz. jar diced tomatoes with green chiles
1 15 oz. can black bans, rinsed and drained
1 8 oz. bag frozen corn (about 1 1/2 cups)
1 jalapeño pepper, stem removed, pierced several times with a fork
1/4 cup chopped fresh cilantro, plus extra for garnish
salt and pepper to taste
Directions:
1. In a large bowl, toss cubed chicken with chili powder, garlic powder, cayenne, onion powder, black pepper, and salt until well coated. Set aside.
2. Combine salsa, tomatoes with green chiles, black beans, corn, jalapeno, and cilantro in the slow cooker. Stir to combine. Add the seasoned chicken to the slow cooker; stir to combine.
3. Cook on low for 5-6 hours (check at 4 hours for doneness). Remove jalapeno and discard. Remove chicken from the slow cooker and shred with two forks. Return chicken to slow cooker and stir. Serve over rice or fill in tortillas. Garnish with more cilantro.