Lately I've been on this naan kick where I want to eat it constantly. It's so soft and pillowy and buttery. If you leave me alone with naan and hummus, it will be gone in two seconds flat. I've made a meal out of naan and hummus many a night. That's why when I found this Butter Chicken Naan Pizza with Peanut Slaw, I knew I had to make it. And why didn't I think about turning naan into pizza?!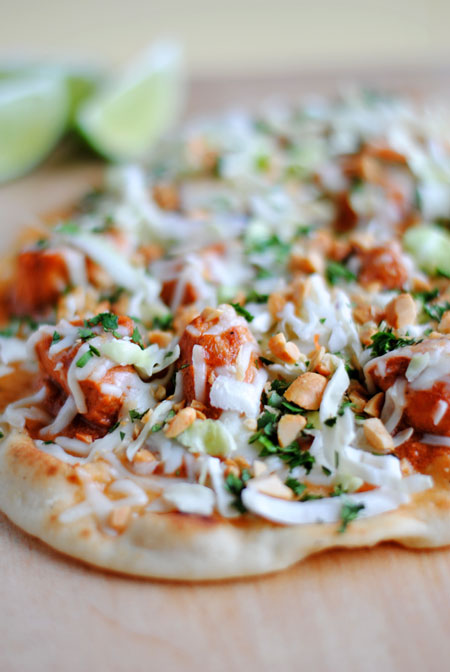 So, how's it taste?
I really enjoyed this one! Using the slow cooker makes cooking the "sauce" very easy. However, I do think there are better butter chicken recipes than this particular one. I've made one before in the slow cooker and another one in a skillet. Both are much better than this recipe. It wasn't bad, just not as good. Also, I'd pay close attention if you use the slow cooker method. I find when you slow cook bite-size pieces of chicken, that it doesn't take as long. I cooked mine on low for 5 hours and it was a tad bit dry. I would not recommend cooking it on high.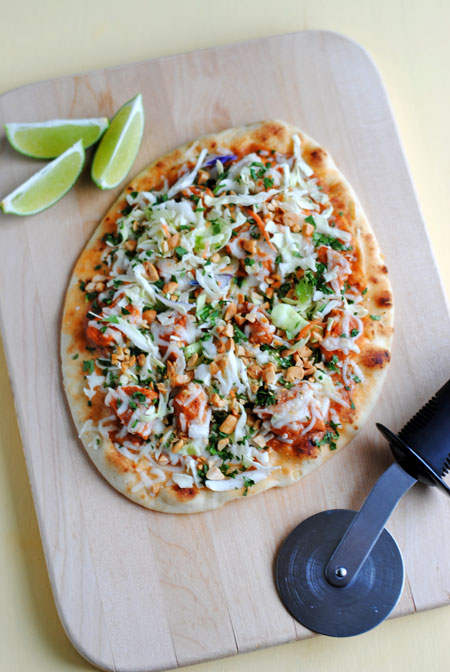 The contrasting textures were what really sold me on this meal. Soft, buttery naan topped with chicken in a creamy, spicy sauce, sprinkled with gooey mozzarella, and then garnished with crunchy slaw and peanuts. It sounds like an odd combination, but I loved it. I ended up freezing the chicken mixture in portions and would make one pizza at a time. Instead of mixing the slaw all at once, I'd sprinkle the slaw on top and then add the peanuts, cilantro, salt, and lime. I left out the oil in the slaw because it doesn't really need it.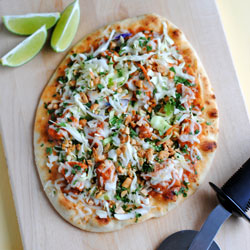 Yield: 8 servings
Prep Time: 35 min
Cook Time: 6 hr 35 min
Butter Chicken Naan Pizza with Peanut Slaw
Ingredients:
Pizzas
2 tbsp. butter
2 tbsp. vegetable oil
1 medium onion, chopped
2 tbsp. grated gingerroot
2 tbsp. finely chopped garlic
1 tsp. ground cardamom
2 tsp. garam masala
1 tsp. chili powder
1/2 tsp. ground coriander
1 can (6 oz.) tomato paste
1 can (14 oz.) light coconut milk
2 lb. boneless skinless chicken breasts, cut into bite-size pieces
1 container (6 oz.) Greek plain yogurt
1/4 tsp. salt
8 to 10 naan breads
Shredded mozzarella cheese
Slaw
1 bag (16 oz.) coleslaw mix
1 1/2 cups roasted peanuts
3/4 cup chopped fresh cilantro
1/3 cup lime juice
3 tbsp. olive oil (I left this out and it was fine)
1/4 tsp. coarse sea salt
Directions:
1. Spray 4-quart slow cooker with cooking spray. In 10-inch skillet, melt butter with vegetable oil over medium heat. Add onion and garlic; cook about 5 minutes or until onion is softened.
2. Stir in cardamom, garam masala, chili powder, and coriander. Cook 2 minutes longer, stirring frequently.
3. Stir in tomato paste and coconut milk. Heat until thoroughly blended. Pour mixture into slow cooker. Add chicken, yogurt and salt; stir to mix.
4. Cover; cook on low heat setting 6 to 8 hours (or on High heat setting 4 hours).
5. To make pizzas, set oven control to broil. Place naan breads on ungreased cookie sheet. Top each with desired amount of chicken mixture. Sprinkle each with mozzarella cheese.
6. Broil until cheese is melted.
7. Just before serving, stir together all slaw ingredients. Top pizzas with slaw.