I love tilapia. It's my favorite fish because it's so mild and almost any flavor blends nicely with it. I watched Giada De Laurentiis make this Broiled Tilapia with Mustard-Chive Sauce and serve it over Carrot and Yam Puree not too long ago and pushed it to the top of my "to make" list. I'm always looking for new ways to cook tilapia and this version is not only light and healthy, but absolutely delicious. Alongside, I served Bobby Flay's Perfectly Grilled Asparagus. I've grilled this asparagus several times and it's the best way to eat it. If you don't have his Grill It! book, go get it now.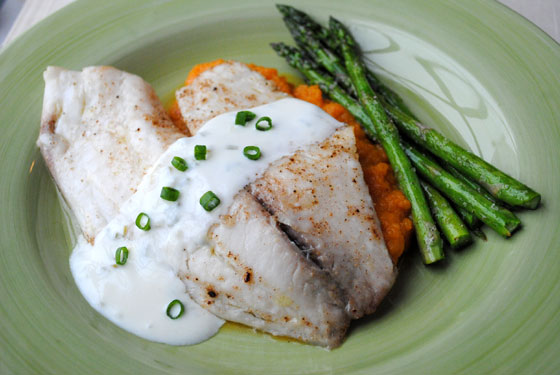 So, how's it taste?
I knew the tilapia with the delicious mustard-chive sauce would taste awesome, and it did! I was a little weary of the puree. It kinda sounds strange to be honest. I was also making this dinner for a friend who does not like yams or sweet potatoes (which I used), but was convinced with the other flavors that she'd like it. I was right! Thankfully I had read the reviews and made the puree a little chunkier so it didn't resemble baby food. It was awesome. The onions and garlic make it savory and the carrots and sweet potatoes balance each other out, so you don't get a strong flavor of either. The smell while this puree was cooking was intoxicating. My friend loved it!
The fish served over the puree with that sauce was lip-smacking good. We couldn't believe how yummy it was. The asparagus added a nice texture contrast to the delicate fish and puree. We both felt like we were eating in an upscale restaurant. Another plus is this meal is healthy. I didn't do the calorie math, but it's definitely lighter fare.
Note: The sauce is really, really thin. It ends up not so pretty on your plate. I thickened it a lot to make it look decent for my picture by adding more yogurt. It tasted too sour with the extra yogurt, so I don't recommend doing this unless you plan on snapping a picture rather than eating it!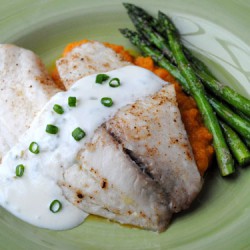 Broiled Tilapia with Carrot and Yam Puree
Ingredients:
Tilapia
Vegetable oil cooking spray
4 (5 to 6-oz.) tilapia fillets
Extra-virgin olive oil, for drizzling
Kosher salt and freshly ground black pepper
Mustard-Chive Sauce
1/4 cup plain, full-fat Greek yogurt (I used fat free)
2 tsp. agave nectar or honey
1 tsp. Dijon mustard
1/4 cup lemon juice (from 1 large lemon)
2 tbsp. chopped fresh chives (I used green onions)
Kosher salt and freshly ground black pepper
Puree
1/3 cup extra-virgin olive oil
1 large onion, diced
3 cloves garlic, minced
2 pounds carrots, peeled and thinly sliced
2 pounds yams, ends trimmed, peeled and cut into 3/4-inch pieces (I used sweet potatoes)
1 teaspoon kosher salt, plus extra for seasoning
1/2 teaspoon freshly ground black pepper, plus extra for seasoning
4 cups low-sodium chicken broth
1/2 cup water
Asparagus
1 1/2 lbs. fresh asparagus
3 tbsp. olive oil
Kosher salt and freshly ground black pepper
Directions:
1. In a saucepan or Dutch oven, heat the oil over medium-high heat. Add the onion and cook until tender, about 5 minutes. Add the garlic and cook for 1 minute until aromatic. Add the carrots, yams, 1 teaspoon salt, and 1/2 teaspoon pepper. Cook for 5 minutes until slightly softened. Add the stock and water and bring to a boil. Reduce the heat and simmer until the carrots are tender, about 25 minutes. Using a ladle, remove 2 cups of the cooking liquid and reserve. (I removed a lot more liquid so the puree wouldn't be too thin.) Using an immersion blender, puree the mixture until slightly chunky, adding the reserved cooking liquid, 1/4 cup at a time, if needed. Season with salt and pepper, to taste.
2. For the fish: Preheat a broiler. Spray a small baking sheet or glass baking dish with vegetable oil cooking spray. Set aside.
3. Drizzle the tilapia fillets on both sides with olive oil and season with salt and pepper. Arrange the fillets in a single layer on the prepared baking sheet and broil until cooked through and the flesh flakes easily with a fork, about 6 to 8 minutes. Set aside to cool slightly.
4. For the sauce: In a small bowl, mix together the yogurt, agave nectar, and mustard until smooth. Whisk in the lemon juice and chives. Season with salt and pepper, to taste.
5. Transfer the tilapia to a serving platter and drizzle with the sauce.
6. For the asparagus: Heat your grill to high. (I used a grill pan on the stove.)
7. To trim the asparagus, snap the spears with two hands; the tough part should break right off. For a cleaner look and less waste, you can cut off the tough bottoms with a knife and peel the bottom half of the stalk if necessary.
8. Place the asparagus on a baking sheet, toss with the oil, and season with salt and pepper. Grill the asparagus, perpendicular to the grates of the grill, for 3 to 5 minutes on each side or until just crisp-tender.