This is not your ordinary fish sandwich. While we're on the subject, let me tell you how much I despise fast food fish sandwiches. I think they should be banned…all fast food fish should be illegal. I don't know why, but it grosses me out. I know a certain chain restaurant has its legion of fans for that nasty fish sandwich…and they eat it with a slice of cheese! I'll never understand it. Not to be left out of the fish sandwich love, I offer up this Fish Sandwich with Ginger Apricot Mayonnaise. Believe it or not, it's incredibly tasty and under 250 calories per serving!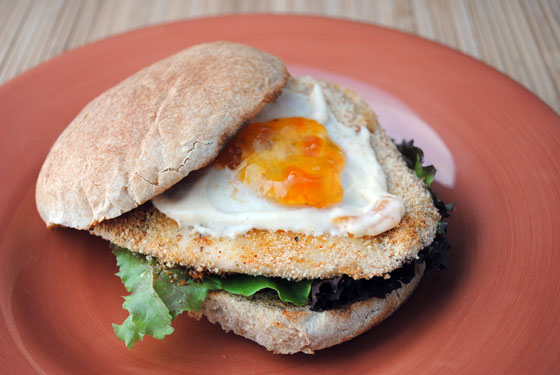 So, how's it taste?
I was first drawn to making this sandwich because of the flavored mayonnaise. Ginger and apricot? Yes, please! I know plenty of folks that don't like mayo, but it just goes with fish…like tartar sauce. I happen to love mayo, so jazzing it up with flavor is a bonus for me. Fish cooks so quickly, so this meal is a very easy weeknight meal. There's ginger and cayenne in the breading for the fish which makes for a pretty flavorful sandwich. You might want to amp up the cayenne if you like a little spice as I couldn't taste it very much with the measurements below. I used tilapia for the fish as it's very mild and goes well with just about any flavor combination. The ginger apricot mayo is such a refreshing match for the delicate fish. I like to add an extra dollop of the preserves for more sweetness. You could certainly substitute orange marmalade or peach preserves as well.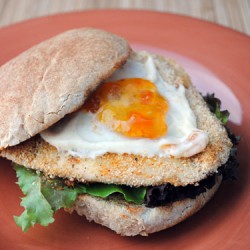 Fish Sandwich with Ginger Apricot Mayonnaise
Ingredients:
Ginger Apricot Mayonnaise
1/4 cup low-fat mayonnaise
1 tsp. apricot preserves
1/4 tsp. ground ginger
Sandwiches
4 fresh tilapia fillets
margarine spray
1/4 cup fine dry bread crumbs
1/4 tsp. ground ginger
1/8 tsp. salt
1/8 tsp. pepper
1/8 tsp. cayenne
4 hamburger buns (I prefer Healthy Life)
lettuce
4 tbsp. apricot preserves
Directions:
1. For the mayonnaise, in a small bowl mix mayonnaise, ginger, and preserves.
2. For the sandwiches, lightly coat a shallow baking pan with nonstick cooking spray; set aside. In a small bowl combine the bread crumbs, ginger, salt, pepper, and cayenne; set aside. Place fish fillets on the baking pan, spray with margarine spray. Coat sides and tops with crumb mixture.
3. Bake, uncovered, in a 450F oven for 4 to 6 minutes or until fish flakes easily with a fork.
4. To serve, toast buns and add lettuce and fish fillets to bottom buns. Top each sandwich with 1 tablespoon of the mayonnaise and 1 tablespoon of the preserves. Add bun tops.