I'm continuing to eat low calorie as much as I can, but I really don't want to miss out on some of my favorite foods like pasta and cheese! Enter Spaghetti with Creamy Basil Pesto. I had a feeling this dish would be awesome because the method reminded me of my Pasta with Mint Pesto recipe where the sauce gets thinned out with the pasta cooking water and somehow becomes creamy. It's a simple pasta dish, but I loved the flavors from the basil pesto. One serving is huge and comes in at 360 calories.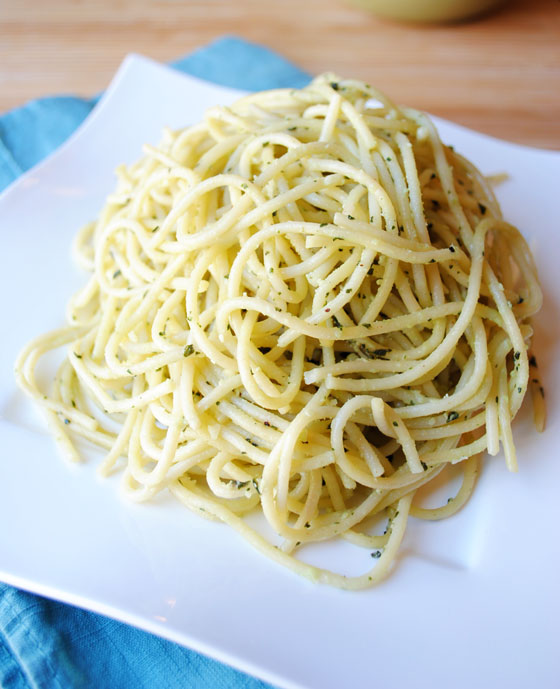 So, how's it taste?
I loved this dish freshly made. The sauce was incredibly creamy and it's hard to believe since it's not that much ricotta or Parmesan. I used about 1/2 cup of the cooking liquid, but should have probably used a bit more to make it even more creamy. The spaghetti soaks up the pesto sauce like crazy! The leftovers were a bit lackluster though. The noodles continue to soak up the sauce and it was really dry. My solution to that was to add in a splash of milk (I used almond milk) and then I topped my spaghetti with roasted veggies. The milk and veggies added more moisture and it was really good! I think this basil pesto would be magic on top of zucchini noodles, especially because those "noodles" have a lot of moisture so it wouldn't be dry for your leftovers. Another trick I'd like to try is using low-fat cottage cheese instead of the ricotta. I think it would bring more moisture to the dish and would reduce the calories a bit more. All in all a great recipe with some tweaks and an excellent vehicle for toppings!
This recipe came out of the America's Test Kitchen Comfort Food Makeovers cookbook
. I'm loving this book so far! So many great recipes for foods that I love, but the calories are slashed. The Cheeseburger Pie recipe came from this book, too. I can't wait to eat my way through it and not feel a bit of guilt!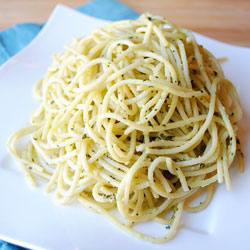 Spaghetti with Creamy Basil Pesto
Ingredients:
4 garlic cloves, unpeeled
3 cups fresh basil leaves
1 oz. Parmesan cheese, grated (1/2 cup)
2 oz. (1/4 cup) part-skim ricotta
1 shallot, minced
2 tbsp. extra-virgin olive oil
Salt and pepper
1 lb. spaghetti
Directions:
1. Toast garlic in small skillet over medium heat, shaking pan occasionally, until color of cloves deepens slightly, about 7 minutes. Transfer to plate and cool slightly. Peel and mince.
2. Process toasted garlic, basil, Parmesan, ricotta, shallot, oil, and 1/2 teaspoon salt in food processor until smooth, scraping down bowl as needed.
3. Bring 4 cups water to boil in a large pot. Add pasta and 1 tablespoon salt and cook, stirring often, until al dente. Reserve 1 cup cooking water, then drain pasta and return to pot. Stir in pesto, season with salt and pepper to taste. Add reserved cooking water as needed to desired consistency. Serve.
per serving (about 1 1/2 cups): 360 calories, 8g fat, 59g carbs, 14g protein, 3g fiber
This post contains affiliate links.