This is the last side dish of my awesome 420 calorie meal. I told you about the delicious Baked Sage Breaded Pork Chops and gave a rave review of Creamy Corn with Chives. This Garden Salad with Herbed Vinaigrette needs some time in the spotlight, too. It's really a very, very basic salad and to be honest I wasn't excited about it. You see, I like my salads full of cheese and bacon and croutons and dripping with a creamy dressing. I wasn't so sure about one with just veggies and a homemade vinaigrette. Happy to report it was full of flavor and completely surprised me with how much I loved it.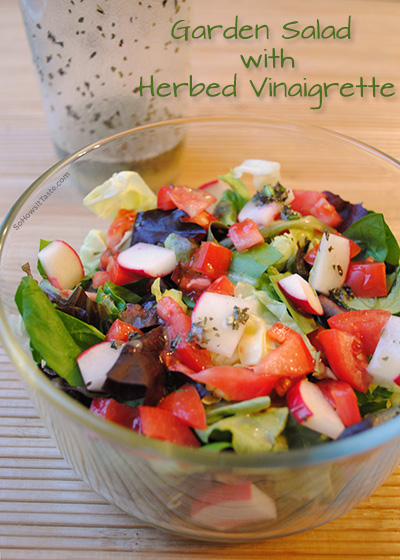 So, how's it taste?
That dressing! Oh that dressing! It's pretty rare that I make homemade dressings, but every time I do, I think "I've got to make this more often." They just taste better. Period. This vinaigrette was the bomb! The salad is pretty minimal with lettuce, tomatoes, and radishes (what? no cheese? no croutons?), but I liked how it was chunks of red against the green lettuce. I mixed butter lettuce and Spring mix because they are both my favorite. The dressing makes this simple salad come alive. It's sweet, tangy, salty, and has just a hint of onion. It's not a lot of dressing on each serving, but ends up being the perfect amount. This would make a great side dish to almost any meal. I'm going to have to keep that dressing on hand from now on!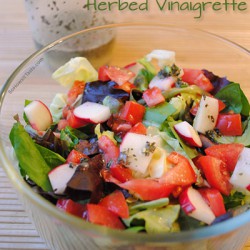 Yield: 4 servings
Prep Time: 15 min
Garden Salad with Herbed Vinaigrette
Ingredients:
Salad
4 cups lettuce (I used a mix of butter & spring mix)
1/2 cup sliced radishes
2 plum tomatoes, chopped
Vinaigrette
2 tbsp. chopped fresh basil
1 tbsp. chopped fresh chives
2 tsp. sugar
1/2 tsp. dry mustard
1/4 tsp. salt
1/4 tsp. pepper
3 tbsp. white wine vinegar
2 tbsp. extra virgin olive oil
Directions:
1. In a large bowl, combine all salad ingredients.
2. In small bowl or jar with tight-fitting lid, combine all dressing ingredients; blend or shake until sugar is dissolved. Add dressing to salad; toss gently to coat.
per serving: 110 calories, 7g fat, 10g carbs, 3g fiber, 2g protein