A few years ago I made a Cream of Cauliflower Soup and was obsessed with it. Obsessed. When I saw this Roasted Cauliflower Soup recipe in Cooking Light, I knew I had to make it asap. I'm a huge, huge fan of roasting vegetables. They are so easy to pop in the oven with just salt and pepper, and what a wonderful flavor you get for almost any vegetable, especially cauliflower. I could only imagine how good that flavor would be in a creamy soup.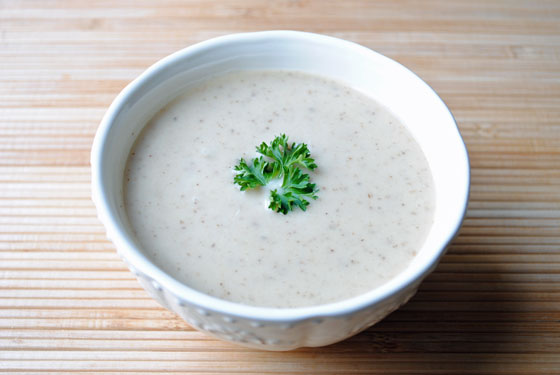 So, how's it taste?
Oh my my my was it ever good. It gives the illusion that it would be a thick and creamy soup, but it's actually on the thinner side. Not quite as thin as broth, but it's not as thick as a "cream of" soup. I loved it. I thought it was so pretty in such a simple way with the flecks of the darker spots on the roasted cauliflower. I used an immersion blender and purposely left some small chunks of cauliflower in my version. There's really not much to the ingredients, but roasting the cauliflower first is where all the awesome flavor comes from. The original recipe has additional steps to add ham and a bread topping, but I was too lazy for all of that. I topped a few servings with parsley and other servings with crumbled blue cheese and almond slivers. All of those toppings really worked well, but it's good plain if you don't want to fuss with the extra steps and make this a weeknight meal.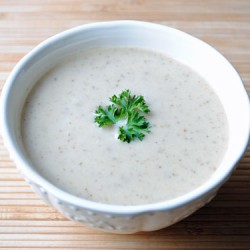 Roasted Cauliflower Soup
Ingredients:
1 large cauliflower head, cut into florets
2 tsp. olive oil
1/2 tsp. kosher salt, divided
Cooking spray
1 1/2 tsp. unsalted butter
3/4 cup chopped yellow onion
4 garlic cloves, chopped
4 cups unsalted chicken stock or broth (or vegetable for vegetarian)
1 cup water
1/2 cup half-and-half
optional toppings: sliced almonds, parsley, blue cheese crumbles
Directions:
1. Preheat oven to 450F.
2. Place cauliflower in a large bowl; drizzle with oil, and sprinkle with 1/4 teaspoon salt. Toss to coat. Arrange mixture in a single layer on a jelly-roll pan coated with cooking spray. Bake 30 minutes or until tender and browned, stirring once after 15 minutes.
3. Heat a large Dutch oven over medium heat. Melt 1 1/2 teaspoons butter in pan. Add onion and garlic; sauté 5 minutes, stirring occasionally. Add cauliflower, stock, and water; bring to a boil. Reduce heat, and simmer 20 minutes, stirring occasionally. Remove from heat; stir in half-and-half.
4. Place half of cauliflower mixture in a blender (or you can use an immersion blender in the Dutch oven and skip the next few steps). Remove center piece of blender lid (to allow steam to escape); secure blender lid on blender. Place a clean towel over opening in blender lid (to avoid splatters). Blend until smooth; pour pureed soup into a bowl. Repeat with remaining cauliflower mixture. Stir in remaining 1/4 teaspoon salt.
per serving: 245 calories, 12.6g fat, 14.7g protein, 21.7g carbs, 5.6g fiber
*note: nutrition information from original recipe on Cooking Light