Yep, still on my kick of not cooking. I'm in salad and sandwich overdrive. I want meals that are full of flavor, but don't leave me in the kitchen having to turn the oven or stove on. It's way too hot for that. I'm also starting to become obsessed with white beans. I really didn't like them as a kid, but lately I'm appreciating how hearty and flavorful they are. That's why I was drawn to this White Bean & Mozzarella Sandwich. The beans are marinated in balsamic vinegar and paired with fresh mozzarella and arugula. It's a little messy, but I've always said, the messier the sandwich, the better!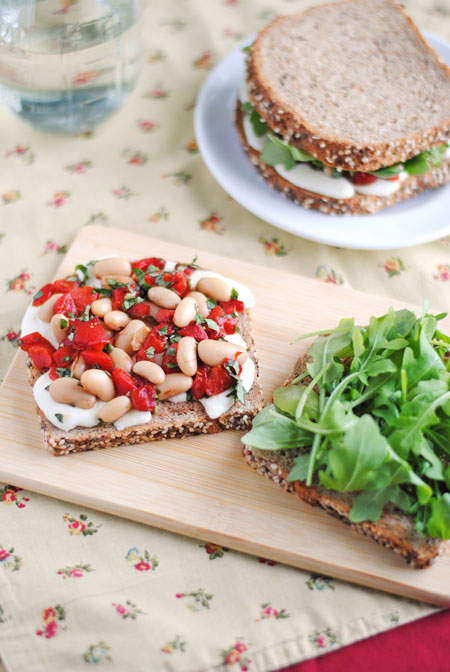 So, how's it taste?
If you're a white bean fan like I am, you'll love this. After the success of my Creamy Avocado & White Bean Wraps, I was so excited about this recipe. This one calls for canellini beans, which hold their shape more than the ones I used for the wraps. This is good because you don't want the bean mixture turning to mush in the marinade.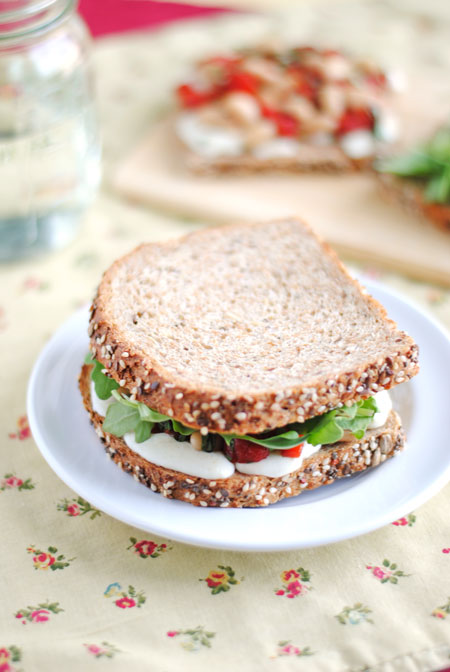 The beans mix with roasted red peppers, fresh basil, balsamic vinegar, salt, and pepper. There's so much flavor! Creamy beans with a nice tang from the vinegar and just a touch of sweet from the peppers. The best part is the ooey gooey fresh mozzarella. I love this stuff! It melts so beautifully and doesn't compete with the beans. Peppery arugula gives some crunch.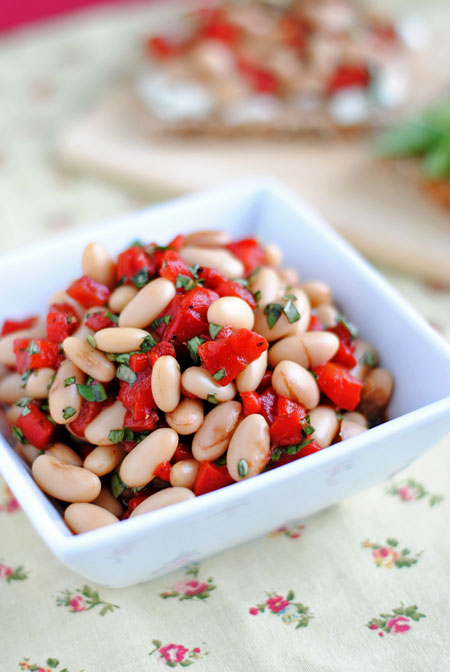 The sandwich does get a little messy with beans falling out, but that could be because I piled mine high! You could also use the bean mixture as a side dish and add chunks of the mozzarella. I think I'm on to something!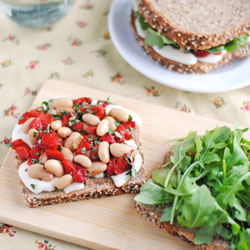 White Bean & Mozzarella Sandwich
Ingredients:
15.5 oz. can canellini beans, drained and rinsed
12 oz. jar roasted red bell pepper, drained and chopped
8 basil leaves, finely chopped
2 tbsp. balsamic vinegar
1/2 tsp. kosher salt
1/4 tsp. freshly ground black pepper
8 slices bread (I used Genesis bread)
4 oz. fresh mozzarella, sliced
arugula
Directions:
1. Combine beans, peppers, basil, balsamic vinegar, salt, and pepper in a bowl. Set aside.
2. Top four slices of bread with mozzarella. Using a toaster oven or broiler, toast slices of bread with mozzarella on top until the mozzarella melts. Toast remaining four slices of bread.
3. Spoon bean mixture on top of mozzarella. Top with arugula. On remaining slices of toast, drizzle a bit of the liquid marinade from the beans. Top sandwiches with bread, marinade side down. Serve.