Here's a great soup that is perfect for a chilly night. Taco Soup has to be the easiest meal you will ever put together, aside from going through a drive-thru, but this tastes much, much better. It's tasty enough for company and you won't believe all the flavor from the ingredients. So grab yourself a bag of Fritos Scoops and get cozy with a big bowl of soup!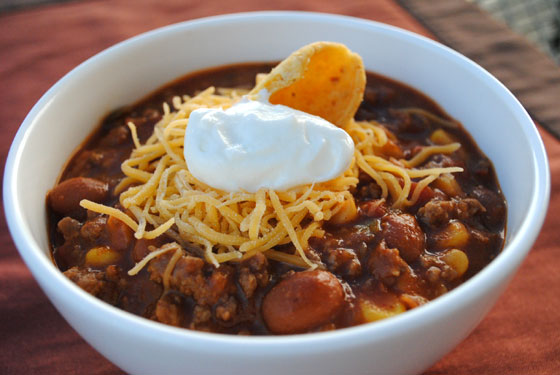 So, how's it taste?
This soup is incredibly hearty and flavorful. It's a snap to brown ground beef with onions and then get out your can opener! Corn, beans, green chiles, tomatoes. What really makes it zing is the taco seasoning and ranch dressing seasoning. Those two combined add this best of both worlds taste. Smoky and spicy with a hint of tang from the ranch. It's awesome. If you like to turn up the spice, I suggest using the chili beans over the pinto beans. I like to use one can of mild and one can of medium. I also like my Taco Soup a little thicker like chili, so I omit the water. Add it in increments to your consistency liking. This soup is incredible topped with sour cream and sharp cheddar all scooped up in a crunchy Frito! Enjoy!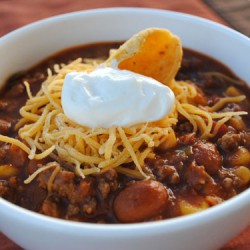 Taco Soup
Ingredients:
1 lb. ground beef
1 large onion, chopped
2 - 16 oz. cans chili beans or pinto beans, undrained
11 oz. can Mexicorn, undrained
14.5 oz. can diced tomatoes, undrained
1 1/2 cups water*
15 oz. can tomato sauce
4.5 oz. can green chiles
1 - 1.25 oz. packet taco seasoning
1 - 1 oz. ranch salad dressing mix
corn chips, optional
sour cream, optional
shredded cheddar, optional
*For a thicker, chili-like consistency, reduce the water or omit.
Directions:
1. In a Dutch oven, brown the beef with the onions and drain.
2. Add remaining ingredients except the optional toppings. Simmer for 15 minutes.