I have been on a shrimp kick lately. I love 'em! They take no time to cook, are a great source of protein, and are low calorie! I like them a lot in creamy pasta dishes like this Shrimp Linguine with Ricotta, Fennel, and Spinach. It's a simple dish with big bites of shrimp, slivers of fennel and shallot, Parmesan, ricotta, and a hint of lemon.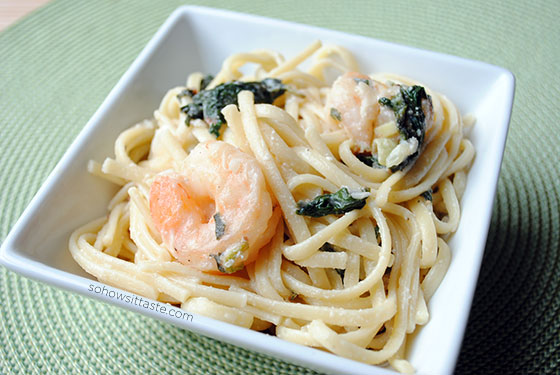 So, how's it taste?
It fits the bill for a light, filling dinner. I really loved this dish right after it was made. Instead of topping my serving with ricotta, I blended it into the pasta and it transformed into a creamy sauce. There's not really a "sauce" for this pasta and sometimes that can really backfire into a dull, dry mouthful of noodles. Swirling in the ricotta really helped it make a creamy, light sauce. I did note that the spinach was a little to slimy. It's cooked down and then the reserved pasta water is added, so it gets a little mushier than I would like. The fennel was a nice touch, with a subtle background flavor and the lemon adds that burst of freshness to bring it all together.
While I enjoyed this dish freshly made, the leftovers were boring. The pasta continues to soak up what little sauce there is to begin with and the leftovers were like eating a bowl of plain noodles with shrimp. I give it a thumbs up freshly made, but I didn't enjoy the leftovers.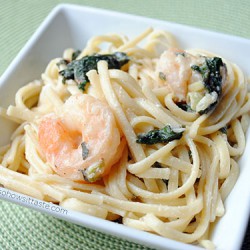 Shrimp Linguine with Ricotta, Fennel, and Spinach
Ingredients:
9 oz. linguine
1 tbsp. olive oil
8 oz. medium shrimp, peeled and deveined
1 cup vertically sliced fennel bulb
1/2 cup thinly sliced shallots
2 garlic cloves, thinly sliced
1 (6 oz.) package fresh baby spinach
1 tbsp. grated lemon peel
2 tbsp. fresh lemon juice
1/2 tsp. freshly ground black pepper
1/4 tsp. salt
2 oz. grated fresh Parmesan cheese (about 1/2 cup)
1/4 cup part-skim ricotta cheese
Directions:
1. Cook pasta according to package directions, omitting salt and fat. Drain in a colander over a bowl, reserving 1/2 cup cooking liquid.
2. Heat a large skillet over medium-high heat. Add oil; swirl to coat. Add shrimp, fennel, and shallots; sauté 3 minutes. Add garlic; sauté 30 seconds. Add spinach; cook 2 minutes or until spinach wilts.
3. Stir in peel and next 3 ingredients (through salt). Stir in reserved cooking liquid; cook 1 minute or until slightly thickened. Add pasta and Parmesan cheese; toss to coat. Top each serving with 1 tablespoon ricotta (or stir in).