It's not a burger in the usual sense, but you won't believe the taste you get out of these Zesty White Bean Burgers. I have tried the frozen, faux meat burgers and anything that tries to be something else usually doesn't come through with taste. This recipe really caught my eye and it's only 495 calories!
I'm a pretty messy cook and these burgers didn't fail to deliver in that area. The mixture is very, very sticky and I found I had to use a little more oil to cook the burgers. The mess is absolutely worth it!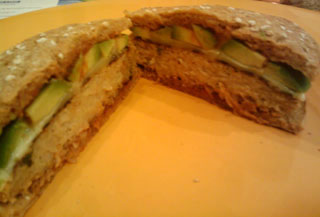 So, how's it taste?
I'd put these burgers up against any cheeseburger. They won't win because let's face it, a big beefy burger smothered in cheese is unbelievable, but these white bean burgers would come in a strong second. The mixture has northern beans, green chiles, and green onions. Top the burgers with bubbling monterey jack cheese, chunky salsa, and some cool guacamole and you won't believe you're eating vegetarian and low-cal. I opted for sliced avocados over the guac, and used those thin, 100-calorie sandwich rounds instead of buns. These burgers are so filling that I didn't bother with a side. I really looked forward to eating these and the leftovers didn't disappoint. The patties are perfect for freezing, so you can have burgers all week long and not feel guilty for eating so much red meat! I will make these again in a heartbeat!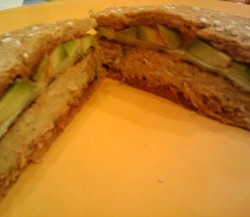 Zesty White Bean Burgers
Ingredients:
1 can (15.5 ounces) great northern beans
1 can (4.5 ounces) chopped green chiles, undrained
2 medium green onions, chopped
1 cup plain bread crumbs
1 egg, beaten
1/4 cup yellow cornmeal
2 tablespoons vegetable oil
5 slices (1 ounce each) Monterey Jack cheese
5 whole wheat hamburger buns, toasted
1 1/4 cups shredded lettuce
1/3 cup guacamole
5 tablespoons salsa
Directions:
1. Place beans in food processor or blender. Cover and process until slightly mashed. In medium bowl, mix beans, chiles, onions, bread crumbs and egg. Shape into 5 patties, each about 1/2 inch thick. Coat each patty with cornmeal.
2. In 10-inch skillet, heat oil over medium heat. Cook patties in oil about 10 minutes, turning at least once, until crisp and thoroughly cooked on both sides.
3. Top patties with cheese. Cover and cook 1 minute or until cheese just begins to melt.
4. Top bottom halves of buns with lettuce, patties, guacamole and salsa. Cover with tops of buns.