I'm a big salad lover, especially ones with different flavors, textures, and unique ingredients. I made this Moroccan Salad with Cilantro Orange Dressing over the holiday weekend and it was fantastic. You can eat it warm or cold, and it makes a great light meal, but fills you up thanks to the bulgur. This recipe comes from the Everyday Healthy ebook, which I'm slowly eating my way through. Healthy can really taste good!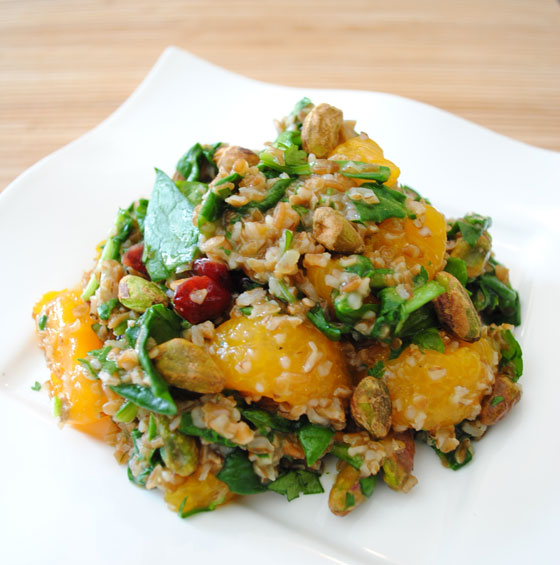 So, How's It Taste?
This salad is so pretty and that's why I was drawn to it. It's on the sweet side, but yet still light. This is great for a quick lunch and it satisfies any sweet cravings. I love the color from the spinach and oranges. In my version, I added dried cranberries for a pop of red and a burst of tart. The bulgur, spinach, and pistachios give bulk to the salad and the freshness comes from the orange segments and dressing. The original version takes a peeled orange and processes it to make the dressing. I can't stand citrus pulp, so I strained mine producing a thinner dressing. I think using the pulp makes the dressing creamier, but I can't handle that texture. To make it easier the second time I made this, I used orange juice and omitted the oil in the dressing. The original recipe lists this as four servings but that would make a tiny salad not big enough for an entree, so I got two servings out of this recipe. That made the calorie count way too high, hence me omitting the oil (which you won't miss). I also used mandarin oranges in water with no sugar added to reduce the prep time. I've eaten this salad with the bulgur warm and cold out of the fridge. I think it's best out of the fridge, but after the chill has come off a bit. If you want to store leftovers, keep the dressing, orange segments, cranberries, and pistachios separate from the bulgur mixture and combine just before serving.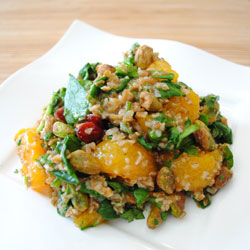 Moroccan Salad with Cilantro Orange Dressing
Ingredients:
Salad
1/2 cup bulgur, uncooked
1 cup water
1/2 cup pitted dates, chopped (about 6 dates)
1/2 tsp. seasoned salt
2 cups baby spinach leaves
1/4 cup pistachios (I use roasted & salted)
2 tbsp. dried cranberries
1/2 cup mandarin oranges, drained (I use the kind in water with no sugar added)
Dressing
1/4 cup orange juice
1 tbsp. apple cider vinegar
1/2 tsp. seasoned salt
1/2 cup fresh cilantro, finely chopped
pepper, to taste
Directions:
1. Add the bulgur and water to a medium saucepan and bring to a boil. Reduce to a simmer; cover and cook for 8 minutes or until bulgur has absorbed all the water. In the last two minutes of the bulgur cooking, add the dates and salt. Remove from heat and add the spinach so it begins to wilt slightly. For a cold salad, let bulgur cool 20-30 minutes and chill in the fridge.
2. Combine all the dressing ingredients and set aside.
3. Toss the bulgur mixture with the remaining salad ingredients (pistachios, cranberries, and oranges). Drizzle with as much of the dressing as desired. Serve immediately.
per serving: 348 calories, 7.7g fat, 66.1g carbs, 11.3g fiber, 9.1g protein
This post contains affiliate links.