Posts have been a little scarce around here lately, but for good reason. So, How's It Taste had a little behind-the-scenes makeover and you should notice how much faster the site is! It's lightning fast thanks to moving to a new hosting company. More changes are coming soon…but until then, let's talk about this Sausage, Cannellini, and Tomato Ragout. You won't believe the flavor in this, and all under 300 calories per serving. One recipe makes four large servings and wait until you see what I serve with it.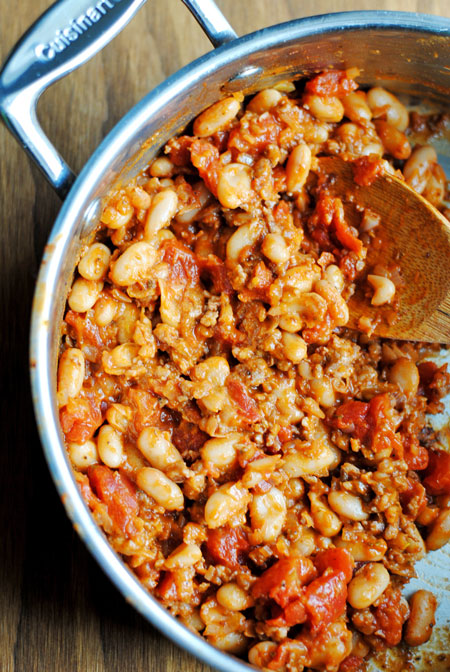 So, how's it taste?
This was a home run! I have a slight obsession with any kind of white beans. I think it's their creamy texture and heartiness that I just crave. Any time I see them in a dish, especially a low calorie one, I instantly have to make it.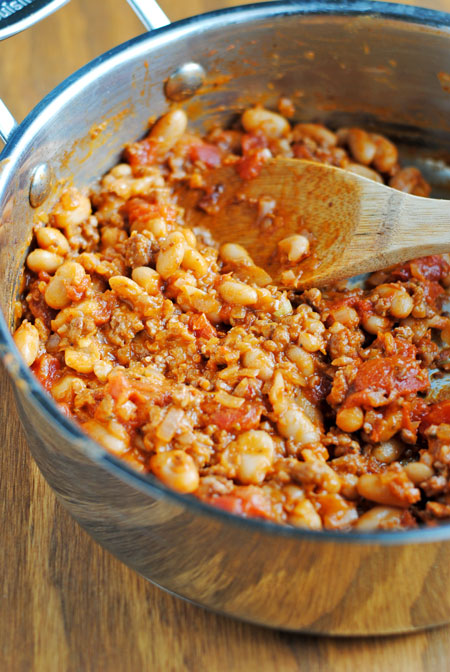 What makes this dish is the tomato paste and red wine. That little bit of red wine really makes a difference and tomato paste is so rich in flavor. This ragout gets better and better with the leftovers, too. You can turn up the heat level with more crushed red pepper (which I recommend)!
I served this dish with a herbed polenta…recipe coming soon! A fantastic meal whether you're counting calories or not!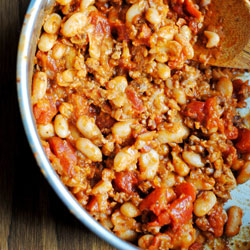 Sausage, Cannellini, and Tomato Ragout
Ingredients:
6 oz. bulk hot Italian sausage
1 tbsp. olive oil
1 cup chopped onion
1 tbsp. unsalted tomato paste
2 garlic cloves, minced
1/3 cup dry red wine
3/4 cup unsalted chicken stock
1/4 tsp. kosher salt
1/4 tsp.n freshly ground black pepper
Dash of crushed red pepper
1 (14.5 oz.) can unsalted diced tomatoes, undrained
1 (15 oz.) can unsalted cannellini beans, rinsed and drained
2 tsp. chopped fresh oregano (or 1 tsp. dried)
Directions:
1. Heat a large skillet over medium-high heat. Add sausage to pan; cook 2 minutes, stirring to crumble. Remove sausage from pan.
2. Add oil to pan; swirl to coat. Add onion; sauté 3 minutes. Add tomato paste and garlic; cook 1 minute, stirring frequently. Add wine; cook 1 minute, scraping pan to loosen browned bits.
3. Stir in stock and next 5 ingredients (through beans); reduce heat to medium-low, and simmer 8 minutes or until slightly thickened. Stir in cooked sausage and oregano.
per serving: 288 calories, 17.2g fat, 11g protein, 18g carbs, 4g fiber