As much as I love to bake sweets and eat out in restaurants, I have to find some kind of balance so I can still fit through my front door. I'm always on the lookout for healthier meal options and have as many diet cookbooks as I do sweet treat cookbooks. I'm not opposed to healthy eating, but it's got to taste good. I was excited about trying this Creamy Shrimp Casserole because it looked super easy to make and the crust lured me in with pistachios.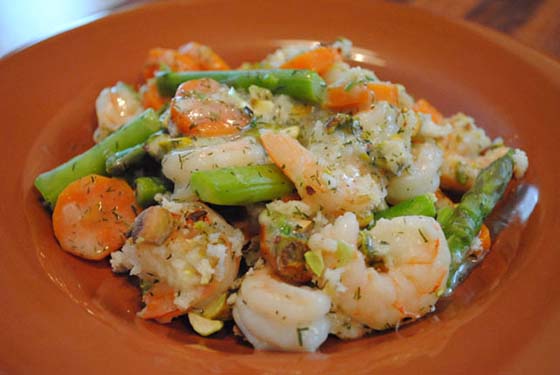 So, how's it taste?
Once I got into the details of the recipe (I never read them through until I start to make them), I was nervous it was going to taste awful. The ingredients are so simple, and there's just not much to it. I used skim milk in my recipe and although it was a thinner consistency, this casserole was really good. The carrots and asparagus make up the bottom of the dish and they were so tender and tasted awesome after cooking in the chicken stock. It also seems like a ton of dill gets added, but it tasted great. My only complaint about this dish is that the crust gets soggy for leftovers. I might bake the servings in separate dishes to avoid that next time.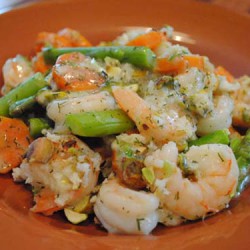 Creamy Shrimp Casserole
Ingredients:
Casserole
3/4 cup reduced-sodium, fat-free chicken broth
3 medium carrots, sliced
1 small bunch asparagus, cut into 2" pieces
1 cup 1% milk (I used skim)
1/4 tsp. salt
1/4 tsp. black pepper
1 tbsp. cornstarch dissolved in 2 tbsp. cold water
1 lb. medium shrimp, thawed if frozen, peeled & deveined, tails removed
3 scallions, thinly sliced
2 tbsp. snipped fresh dill (or 1 tbsp. dried)

Crust
1/2 cup shelled pistachios, finely chopped (not ground) in a food processor
1/4 cup Panko bread crumbs
2 tbsp. olive oil
Directions:
1. Preheat oven to 400 degrees. Spray a shallow 1 1/2 quart baking dish.
2. Bring the broth to a boil in a large skillet over medium heat. Add the carrots and asparagus. Cover and cook, stirring often, for 3 minutes or until crisp-tender. Transfer to baking dish with a slotted spoon.
3. Add the milk, salt, and pepper to the broth and bring to a boil. Stir the cornstarch mixture and add to the skillet. Cook, stirring constantly, until thickened. Reduce heat and add the shrimp, scallions, and dill. Bring to a simmer and pour into baking dish over vegetables.
4. Mix the pistachios and Panko in a small bowl. Sprinkle evenly over the casserole. Drizzle with the oil. Bake for 15 to 20 minutes or until the shrimp are opaque and the casserole is bubbly.