I normally get really excited about food. I love it. I'll be at lunch talking about what I'm going to have for dinner. Oh, if only calories didn't exist! A friend of mine posted about This Lunch Rox! a long time ago and I always pored through each post, thinking "I could do this for me." Well, minus the cute cutouts and such. Kids shouldn't be the only ones to have fun with lunch. I struggle during the week with lunch while I'm at work. I'm surrounded by delicious restaurants, most in walking distance, but my wallet and my waistline would suffer too much. Leftovers or frozen meals are my usual route, but since that's been my go to "grab & go" lunch for years, I'm burnt out. Then I thought back to This Lunch Rox!, got some ideas from the Bistro Boxes at Starbucks, and was determined to make my own fun & healthy lunches!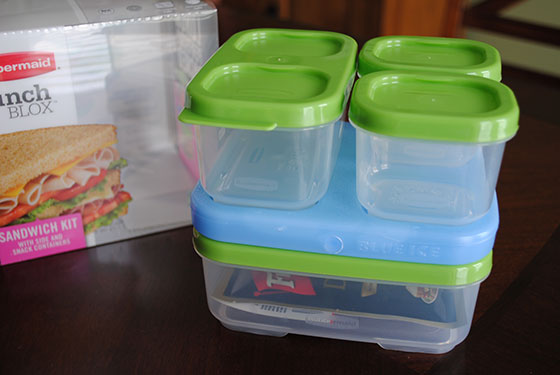 To make this work, I needed a new lunchbox. Throwing all these bites into baggies wasn't going to work. I'm a sucker for boxes and bags and such, so I kind of just wanted to buy something new. After searching all over the lunchbox aisle and not being happy with anything, I by chance stumbled into the plastic container aisle and found Rubbermaid Lunch Blox Sandwich Kit
! Perfect! There's a Sandwich Kit, Salad Kit, and Entree Kit, or you can buy the compartments on their own. The sandwich style was just what I wanted.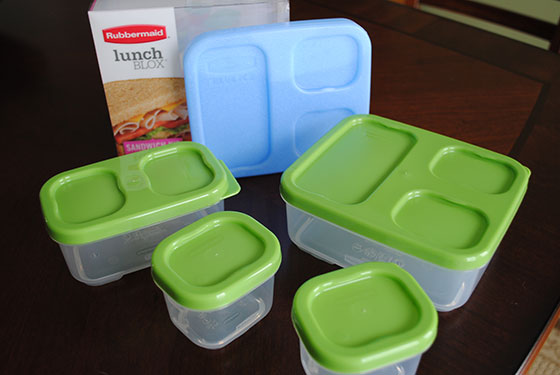 I bought four so I could prep my lunch for the entire week. I treat myself to one lunch out a week, so no need for five (although I'm eyeing the Salad Kit). The compartments all snap together on top of each other and the kits come with a Blue Ice pack that snaps on as well. I don't really use the ice pack since I have a fridge at work, but this would make these wonderful for travel.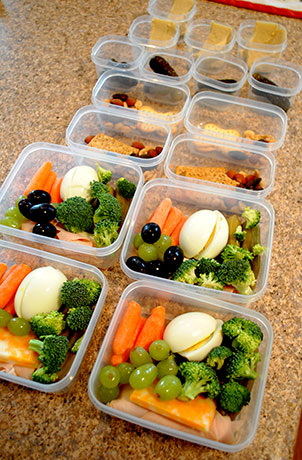 I filled mine with all kinds of healthy bites. What makes them fun is that it's not just one thing, it's several things. I tend to get bored with just a sandwich and chips, but this way, I'm eating tons of stuff (it feels like). I keep the calorie count under 400 per box, and it fills me up. It's really easy to vary each box if you wanted more variety, too. Lately I've been stuffing mine with a hard-boiled egg, broccoli, cauliflower, carrots, deli turkey, reduced fact Colby Jack cheese or reduced fat mozzarella stick, red & green grapes, hummus, mixed nuts, crackers, pickles, and pickled okra. See, that's a lot of food! I also enjoy that it's so many different flavors and textures. I discovered raw veggies (especially broccoli) are delicious dipped in hummus, and if you eat the egg and pickle together it's like eating deviled eggs! Eating lunch is fun!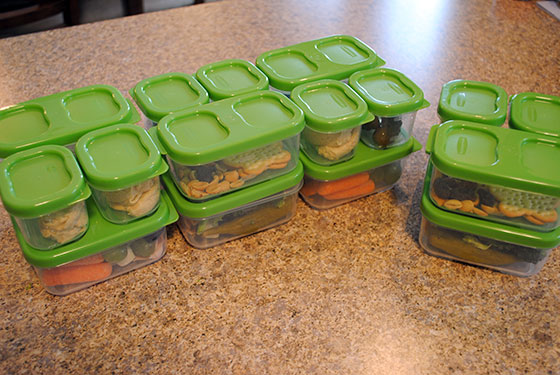 Every Sunday, I line up my containers and get them ready for the week. It's a cinch and actually kind of fun! It also takes no time, so I don't have to worry about what I'm going to do for lunch for an entire week. Since they're stackable, they fit nicely in the refrigerator without taking up too much space.
Disclaimer: I am not associated with Rubbermaid. This post is my personal opinion and I was not compensated by Rubbermaid or any third party. This post contains an affiliate link.