I love comforting meals like this Turkey Sausage Biscuit Casserole. I almost want to call it a throwback meal. My mom tells me we used to eat a taco version of this that had taco meat underneath, a layer of cheese, and biscuits on top, I think. I don't remember it. Which is weird because I feel like I've been in love with food all of my life, so how do I not remember a meal we ate all the time?! This casserole is super easy and I love making it in my cast iron skillet. Not a fan of canned biscuits? Easily use your favorite recipe for drop biscuits instead!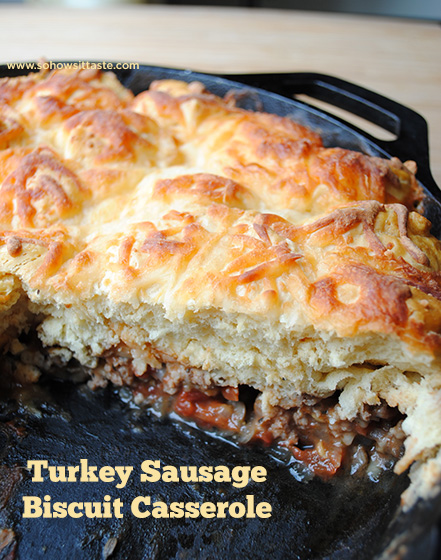 So, how's it taste?
It kind of tastes like pizza! After the first few bites, I was wishing I had added some bell pepper and red pepper flakes. Even some pepperoni! It looks heavy on the biscuits, and it is, but the ratio is just perfect. When I eat a slice, I serve it upside down. The cheesy biscuits are on the bottom and I spoon the sausage mixture over the top. One slice is really hearty and under 350 calories. The biscuits are cheesy and crunchy on top, but soft on the bottom next to the sauce. It's so savory and I like all the textures. It was kind of fun watching the biscuits plump up over the sausage mixture. It holds up pretty well as leftovers, too. I've been taking it to work for lunch and it's just as tasty as fresh from the oven.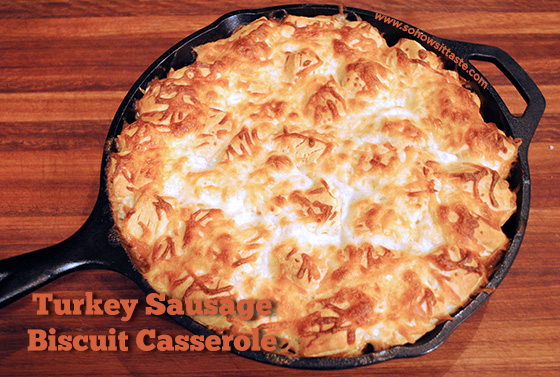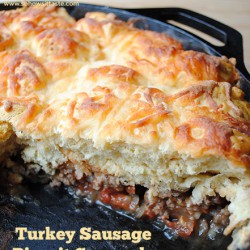 Yield: 6 servings
Prep Time: 30 min
Cook Time: 16 min
Total Time: 50 min
Turkey Sausage Biscuit Casserole
Ingredients:
3/4 lb. bulk turkey sausage
1/2 cup chopped onion
2 tbsp. all-purpose flour
1 (14.5 oz.) can diced tomatoes, undrained
1 (4 oz.) can mushroom pieces & stems, undrained
1 tsp. dried oregano
1/2 tsp. dried basil
1/4 tsp. garlic powder
1/8 tsp. pepper
1 (12 oz.) can refrigerated buttermilk flaky biscuits
1 cup shredded 2% milk mozzarella
Directions:
1. Heat oven to 375F. In 10-inch ovenproof skillet with 2-inch-deep sides, cook sausage and onion over medium heat 5 to 7 minutes, stirring occasionally, until sausage is no longer pink.
2. Sprinkle flour over sausage mixture in skillet. Add tomatoes, mushrooms, oregano, basil, garlic powder, and pepper; mix well. Cook until slightly thickened, stirring occasionally. Reduce heat; simmer uncovered while preparing biscuits.
3. Separate dough into 10 biscuits; cut each into quarters. Arrange biscuit pieces over hot sausage mixture. Sprinkle with cheese.
4. Bake uncovered 16 to 20 minutes or until biscuits are golden brown.
per serving: 338 calories, 15.2g fat, 31.2g carbs, 20.5g protein, 2.7g fiber