Let's talk about hamburger steak. Yes, it's a burger without a bun and it's not going to compete with say a filet, but don't overlook it. I remember having hamburger steak as a kid and I'd smother it in ketchup. It's the only time I put ketchup on anything really (I take my fries with BBQ sauce). I'm happy to have found this grownup version, Hamburger Steak with Onion Gravy. It's a little more refined than dousing with the red stuff and oh my the flavor!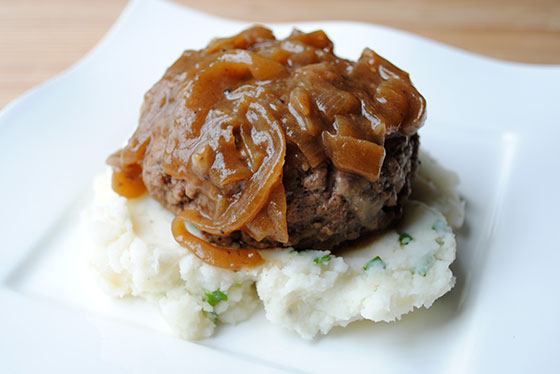 So, how's it taste?
It's so ridiculously simple to put together that I was expecting good, but not super whoa knock my socks off. What makes it so great is that you can really taste the beef. The hamburger steak is seasoned with only salt and pepper, and making sure you don't overwork it when shaping into a patty, it's fantastic. Simple, but it lets you really taste it. The onion gravy just ups it a level without stealing the show. I am an onion lover and can't relate to anyone that doesn't like them. They add oomph to so many dishes and when they're caramelized…get out of town! The gravy is simple and not too thick, but full of beefy, oniony goodness. I almost wish I had doubled the gravy recipe so I could smother more of it on the hamburger steak.
I served this meal with Quick Chive Mashed Potatoes. Low calorie and easy to make without skimping on taste or texture.  Both together were under 400 calories. Yep, meat and potatoes gone low cal!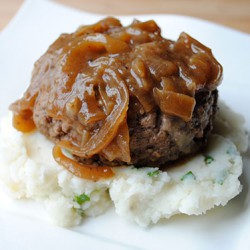 Hamburger Steak with Onion Gravy
Ingredients:
1 lb. ground sirloin
1/2 tsp. salt, divided
1/2 tsp. freshly ground black pepper, divided
1 tbsp. canola oil, divided
1 1/2 cups vertically sliced onion
2 tsp. all-purpose flour
1 cup unsalted beef stock
2 tbsp. thinly sliced green onions, optional
Directions:
1. Divide beef into 4 equal portions, shaping each into a 1/2-inch-thick patty. Sprinkle patties evenly with 1/4 teaspoon salt and 1/4 teaspoon pepper. Heat 2 teaspoons oil in a large skillet over medium-high heat; swirl to coat. Add patties; cook 3 minutes on each side or until browned; remove from pan.
2. Add remaining 1 teaspoon oil to pan; swirl to coat. Add vertically sliced onion; sauté 3 minutes or until lightly browned and tender. Sprinkle onion with flour; cook 30 seconds, stirring constantly. Add stock and remaining salt and pepper; bring to a boil. Return patties to pan; reduce heat to medium, partially cover, and cook 5 minutes or until gravy is slightly thickened. Sprinkle with green onions, if desired.