I'm a big fan of pasta and an even bigger fan of cheese. This meal is a win-win combination! My latest recipe to try is the Three-Cheese Beef Pasta Shells dish.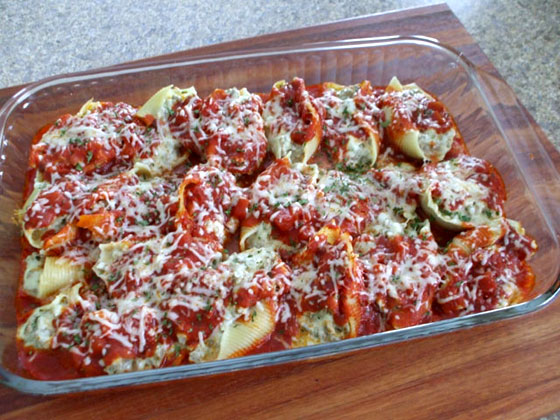 It was very easy to make, but messy when stuffing the shells. The recipe calls for 25 shells and I only had 19 left in my box o'shells. But it seems like that was plenty. Not sure if I was overstuffing or what. But 19 shells barely fit in my glass dish, so I don't know how I would have squeezed in another 6. I also used ground turkey instead of beef. For my pasta sauce, I chose
Bertolli's Vidalia Onion
…amazing!
So, how's it taste?
As if you couldn't tell, I loved this meal! The cream cheese, plus the Italian cheese blend, plus the parmesan made it super cheesy. It had a nice creamy texture that I liked with the pasta and sauce. The leftovers freeze really well. I really like meals that taste just as good as leftovers as they do freshly made. If you're a pasta lover and like cheese, this one's for you!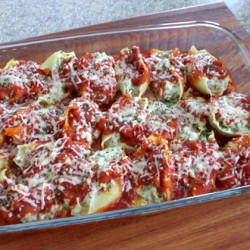 Three-Cheese Beef Pasta Shells
Ingredients:
24 uncooked jumbo pasta shells
1 lb. lean (at least 80%) ground beef
1 jar (26 oz.) chunky tomato pasta sauce
1/4 cup water
1 container (8 oz.) chive and onion cream cheese spread
1 1/2 cups shredded 6 cheese Italian cheese blend (6 oz.)
1/2 cup grated Parmesan cheese
1 egg
1 to 2 tbps. chopped fresh parsley, if desired
Directions:
1. Heat oven to 350°F. Cook and drain pasta shells as directed on package.
2. In 10-inch skillet, cook ground beef over medium-high heat 5 to 7 minutes, stirring occasionally, until thoroughly cooked; drain. Cool slightly, about 5 minutes.
3. In large bowl, mix pasta sauce and water. Pour 1 cup of the pasta sauce mixture in bottom of ungreased 13x9-inch (3-quart) glass baking dish. In medium bowl, mix cheese spread, 1 cup of the Italian cheese, the Parmesan cheese, egg and cooked ground beef. Spoon heaping tablespoon mixture into each shell. Arrange stuffed shells over sauce in baking dish. Pour remaining sauce over top, covering shells completely. Cover with foil.
4. Bake 40 to 45 minutes or until bubbly and cheese filling is set. Sprinkle with remaining 1/2 cup Italian cheese. Bake 10 minutes longer or until cheese is melted. Sprinkle with parsley.