I should have dubbed this week "Ode to the October Issue of Cooking Light." On accident, every post this week is from that issue…and I just received it in the mail last Sunday. I bookmarked so many recipes from it. I really want to take all of next week off just to cook my way through it! Of course I picked out a pizza recipe. I cannot get enough of making pizza at home. It's surprisingly quick…especially if you buy your dough like I do. Last night I went running after work and still had this Herbed Cheese Pizza ready to eat in no time.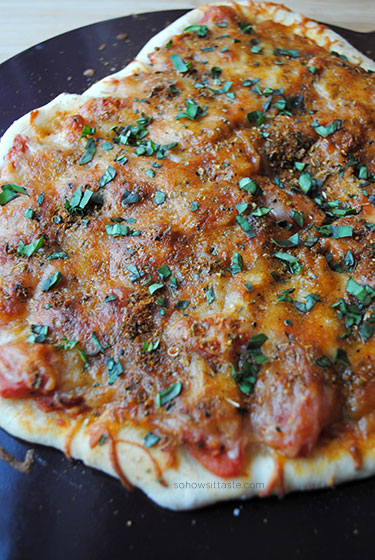 So, how's it taste?
I wanted to make this pizza to see how all of those herbs and spices would taste. I've never thought outside the box much when it comes to herbs and spices on my pizza. You know how when you order a thin crust pizza from delivery they give you that little packet of spices? I love that. This pizza is similar because your tomato sauce is on the bottom, then your cheese, then all those yummy spices. The tomato sauce starts much the same way as my Pizza Arrabbiata. A can of diced tomatoes is my new best friend. I altered Cooking Light's recipe a bit because I wasn't in the mood for onions, but I think they would taste great. Garlic is a must, of course, and one bay leaf gives it a nice touch. I also subbed mozzarella for kasseri because I already had some that I needed to use. For the spice/herb mix there's oregano, cumin, hot paprika, and black pepper. I tell you that hot paprika is fantastic! A nice burst of heat and then a background of smokiness from the cumin. To finish the pizza, I added fresh basil instead of parsley. Once again because I already had the basil. I can't rave enough about this pizza. I also can't wait to try it with the kasseri cheese. This pizza will definitely be on permanent rotation for dinner.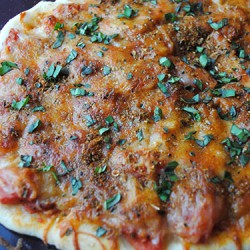 Herbed Cheese Pizza
adapted from Cooking Light, October 2013
makes 8 servings
*per serving: 402 calories, 11.4g fat, 16.6g protein, 57.9g carbs, 4.6g fiber
(Note: nutrition information is for the original recipe from Cooking Light)
Ingredients:
12 oz. refrigerated fresh pizza dough (or make your own using Cooking Light's recipe at the link above)
Cooking spray
2 tsp. dried oregano
2 tsp. ground cumin
1 tsp. hot paprika
3/4 tsp. coarsely ground black pepper, divided
1 tsp. olive oil
1 cup finely chopped onion (I left this out)
1/2 tsp. salt
5 garlic cloves, minced
1 bay leaf
1 (28 oz.) can unsalted diced tomatoes, undrained
8 oz. kasseri cheese, thinly sliced (I used mozzarella)
3 tbsp. minced fresh flat-leaf parsley (I used fresh basil)
Directions:
1. Place a pizza stone or heavy baking sheet in oven. Preheat oven to 450° (keep pizza stone or baking sheet in oven as it preheats).
2. Place pizza dough in a medium microwave-safe bowl coated with cooking spray. Cover and microwave at MEDIUM (50% power) 45 seconds. Let stand 5 minutes.
3. To prepare topping, combine oregano, cumin, paprika, and 1/2 teaspoon black pepper; set aside. Heat 1 teaspoon oil in a large nonstick skillet over medium-high heat. Add onion; sauté 3 minutes. Add 1/2 teaspoon salt, remaining 1/4 teaspoon black pepper, garlic, bay leaf, and tomatoes; bring to a boil. Reduce heat to medium; simmer 15 minutes or until thick. Remove from heat; discard bay leaf.
4. Roll dough into a 14-inch circle on a floured surface. Carefully remove pizza stone from oven; arrange dough on stone. Top with tomato mixture, then cheese, and last with oregano mixture. Bake for 12 minutes or until crust is lightly browned. Sprinkle with minced parsley or basil.