Recently, Progresso sent me one of each of their new Recipe Starter cooking sauces to try. I was pretty excited about finding some new recipes to use with them. My first try using them was with the creamy three cheese and it was a complete disaster. Not because of the sauce, but the awful recipe. I'm going to buy another of the cheese sauce and give it another shot. But of course after that, I wasn't exactly jumping for joy to try the rest. One recipe had me intrigued though. You know how I like weird combination of ingredients, so next I chose Easy Mole Tacos using the Fire Roasted Tomato cooking sauce. It's a savory dish…with chocolate AND peanut butter. I told ya it was weird!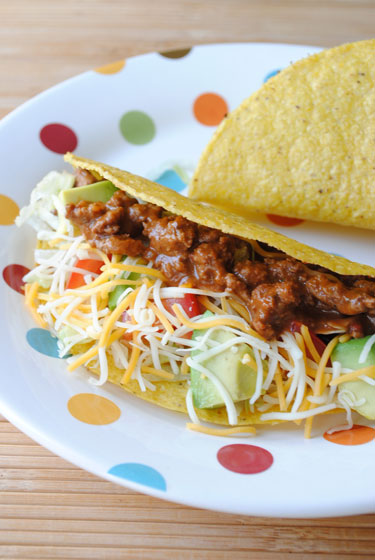 So, how's it taste?
This was my first try making mole. Yeah, yeah, I had a helper using the sauce, but boy was it good! I lived on the edge and used crunchy peanut butter instead of creamy, but you couldn't tell since the taco shells are so crunchy. This stuff was super good. A bit unusual because I could taste the peanut butter just a little, but I loved it covered in all my toppings. You can't taste the chocolate, but it makes the meat mixture really rich. It's like a more decadent version than just using a taco seasoning packet. Which I'm not knocking that method, I eat that stuff, too. I'd like to add even more taco seasoning to my next batch of these mole tacos. I'd like to taste more of it and two tablespoons wasn't quite enough. It also needed a bit of salt in finished product.
I topped my tacos in shredded lettuce, Mexican four-blend cheese, avocados, and tomatoes. I cannot believe I forgot sour cream! I wish I had bought a stronger cheese like sharp Cheddar or Monterey Jack. The Mexican four-blend was too subtle for the rich taco meat. I was licking my fingers and scraping every last morsel off my plate from these tacos. Two sticky thumbs up!
Stay tuned as I slowly make my way through the other Recipe Starter cooking sauces.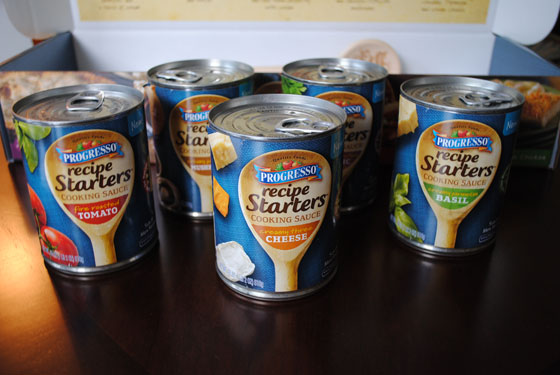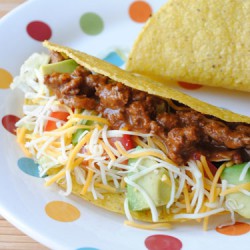 Easy Mole Tacos
Progresso
makes 12 servings
per serving: 190 calories, 12g fat, 13g carbs, 1g fiber, 9g protein
Ingredients:
Tacos
1 lb. lean ground beef
1 can (18 oz.) Progresso Recipe Starters fire roasted tomato cooking sauce
1/4 cup creamy peanut butter
1/4 cup semisweet chocolate chips
2 tbsp. taco seasoning mix (from 1 oz. package)
12 taco shells
Optional toppings
Shredded lettuce
Shredded cheese
Avocado
Tomato
Directions:
1. In 10-inch skillet, cook beef over medium-high heat 5 to 7 minutes, stirring occasionally, until thoroughly cooked; drain.
2. Add cooking sauce, peanut butter, chocolate chips, and taco seasoning mix. Heat to boiling, stirring frequently. Reduce heat; simmer 5 minutes, stirring occasionally.
3. Meanwhile, heat taco shells as directed on package. Serve taco shells with beef mixture and toppings of your choice.