I am a huge fan of cream cheese. Be it sweet or savory, if it's included, I want it. When the Philadelphia Cooking Cremes came out, I jumped at the chance to try them. Philadelphia so kindly put out several recipes to try with each creme and the Creamy Shrimp Tacos sounded completely irresistible, using the Santa Fe Cooking Creme. Shrimp and fish tacos are a big favorite of mine, so I knew I had to try this combination of two of my favorites.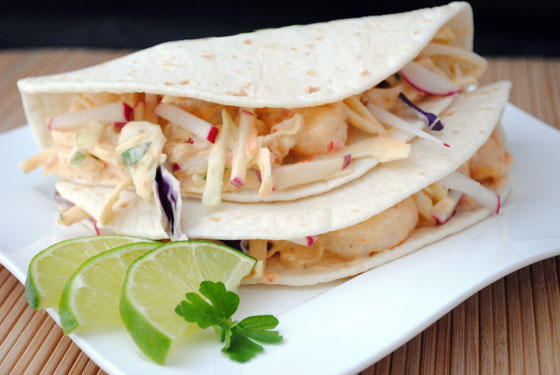 So, how's it taste?
I loved these! I'll warn you, they are the messiest food. It was not pretty when I was scarfing these down with cream cheese and lime juice running all over my fingers. Incredibly easy to cook and assemble. Cook the onions and shrimp, stir in the cooking creme, and you've got dinner in no time. I used prepackaged coleslaw mix instead of the purple cabbage and it worked very well. The contrast between the crunchy cabbage and radish with the creamy shrimp was just what I wanted in a shrimp taco. The cream cheese added a nice Southwestern flavor with a tad bit of spicy heat. I mixed the coleslaw and radishes in with the shrimp mixture to make filling the tacos easier. Mixing everything together also worked well as the cooking creme was a bit too much for just the shrimp and onions.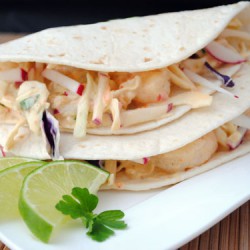 Creamy Shrimp Tacos
Ingredients:
2 tsp. oil
1 cup thinly sliced onions
1 lb. uncooked, deveined, peeled small shrimp
1 tub (10 oz. ) Philadelphia Santa Fe Cooking Creme
8 (6-inch) flour or corn tortillas
1 cup Mexican-style shredded cheese
1/2 cup shredded purple cabbage
1/2 cup shredded radishes
2 tbsp. chopped fresh cilantro
Juice from 1 lime
Directions:
1. Heat oil in large skillet on medium-high heat. Add onions; cook and stir for 5 minutes. Stir in shrimp; cook 3 to 4 minutes or until shrimp turn pink, stirring frequently.
2. Add cooking creme; cook and stir 2 minutes.
3. Spoon onto tortillas; top with remaining ingredients.