This Roasted Pork Tenderloin absolutely rocked my world. I never want to cook pork any other way again. We enjoyed this for our Christmas dinner and I'm so happy it turned out to be such a success. Easy marinade ingredients that you probably have in your pantry already. I only wish I had made more of the sauce because it was incredible!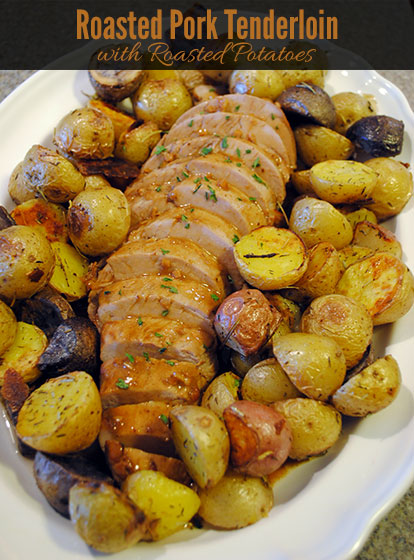 So, how's it taste?
Clearly it was delicious since I'm gushing over it. I can't get over how tender and scrumptious it was! Full disclosure though. The day before I baked a cheesecake and forgot to take the water bath dish out. I remembered after I had heated my oven and didn't want to deal with a pan full of hot water, so I left it in while the tenderloin baked. I have no idea if that contributed its tenderness or not. It did take a longer time for it to finish cooking. The sauce is nothing short of amazing. I love tangy, savory, buttery sauces. I only wish I had doubled or even tripled the recipe for it. It's plenty to pour over your sliced tenderloin, but we craved more as we were eating our serving. I served this with roasted potatoes. I used the colorful potatoes from my Smashed Potatoes, but roasted them without the smashing. Perfect side to this pork tenderloin!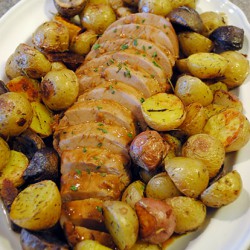 Roasted Pork Tenderloin
Ingredients:
Tenderloin Marinade
1 lb. pork tenderloin
1/2 cup olive oil
1/3 cup soy sauce
1/4 cup red wine vinegar
juice of 1 lemon
2 tbsp. Worcestershire
2 tsp. dry mustard
2 tbsp. fresh parsley, finely chopped
1 tsp. freshly ground black pepper4 cloves garlic, minced
Pan Sauce
pan scrapings from pork tenderloin
1/2 cup chicken broth
3 tbsp. tenderloin marinade
2 tsp. butter
Directions:
1. Add pork tenderloin to dish with a cover or large plastic storage/freezer bag. Add remaining marinade ingredients. Marinate for 4 hours or overnight, turning tenderloin a few times.
2. Preheat oven to 350F. Reserve 3 tablespoons of the marinade (or more if doubling) and discard the rest.
3. In a hot skillet over medium heat, sear each side of the tenderloin for 2-3 minutes. Place tenderloin in a 9x13 dish and cook for 20-30 minutes, until a meat thermometer reaches 160 degrees. Let tenderloin rest at least 5 minutes.
4. While the tenderloin cooks, add the chicken broth to the skillet you used for searing. Over medium heat, scrape all the browned bits from the pan. Add the reserved marinade and boil for 3 minutes. Remove from the heat and add the butter, stirring until melted.
5. Slice pork tenderloin. Pour pan sauce over sliced tenderloin and serve.