I'm so excited to post this recipe for you today. Not only is it healthy, it's full of fresh summer goodies and makes a gorgeous presentation. I love the green and red colors in this Middle Eastern Bulgur Salad. It's so light and refreshing, yet packed with protein to keep you satisfied. It makes a great lunch for the work week as it takes no time to put together and is very portable.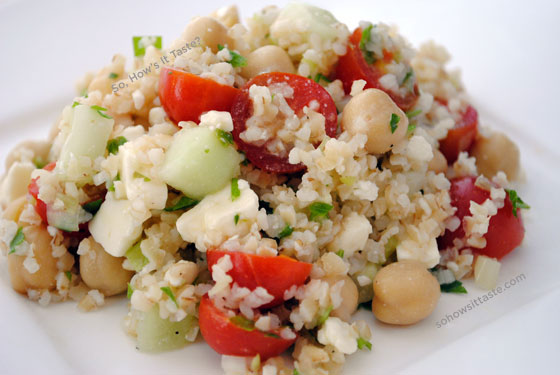 So, how's it taste?
The freshness of this salad is amazing. Some of you could probably make it with foods right from your garden. This is a great recipe to make from your bounty at the farmers' market, too. The dressing is simply lemon juice and olive oil and beautifully compliments the cucumber, tomatoes, and green onions. The onions also give a subtle kick. Definitely be sure to use fresh lemon and fresh parsley. The bulgur serves as a nice vehicle for all these veggies and adds a bit of nuttiness. The garbanzo beans round out the dish to make it more substantial. You'll love the feta as well. I'm a sucker for almost any kind of cheese and this one is among my favorites. It's salty and tangy and goes so well with the rest of the ingredients. The perfect addition to your meal planning now that summer is officially here!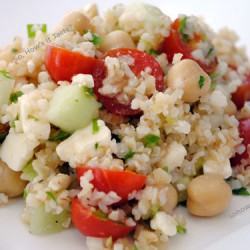 Middle Eastern Bulgur Salad
Betty Crocker Garden-Fresh Meals, September 2003
makes 4 servings
per serving: 370 calories, 14g fat, 60g carbs, 17g protein
Ingredients:
1 cup boiling water
3/4 cup uncooked bulgur
1 can (15 oz.) chick peas (garbanzo beans), drained, rinsed
1 cup chopped cucumber
1 cup halved grape tomatoes
1/2 cup green onions, thinly sliced
1/2 cup crumbled feta cheese
1/4 cup chopped fresh parsley
2 tbsp. fresh lemon juice
2 tbsp. olive oil
1/2 tsp. salt
Directions:
1. Pour water over bulgur in small bowl. Let stand 30 minutes.
2. Meanwhile, mix remaining ingredients in large bowl. Stir in bulgur.
*Note: This salad can be made up to a day ahead. The bulgur will continue to absorb the dressing. Stir in a bit of olive oil to moisten before serving.