I am constantly on the lookout for recipes that are easy to make, low in calorie, freeze well, and actually taste good. I've had my fair share of low-calorie recipes that taste terrible. That would make anyone want to quickly turn to a piece of cake and call it a day. Not this Quick Stromboli. It's incredibly delicious and freezes very well. I enjoyed it so much that I made three rolls of it and now have 24 slices of it in my freezer. Perfect for taking to work or those nights I don't feel like cooking.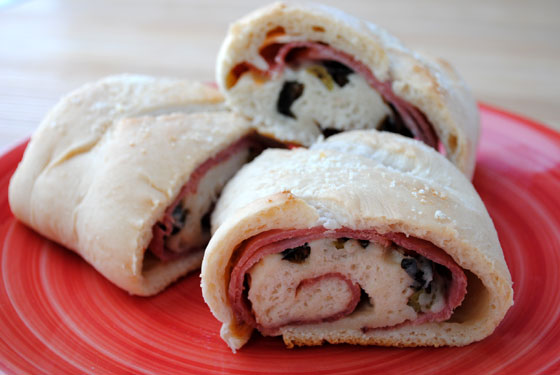 So, how's it taste?
It reminds me of pizza rolls, but with bread instead of pizza dough and no sauce. I purchased the bread dough in my grocer's freezer and let it thaw in the fridge and then come to room temperature. It was a snap to roll out and top with the ingredients. Roll it all up and bake, and that's it! I was a bit disappointed to see that a serving was one slice, which would never satisfy me unless I paired it with a side or a salad. But at 206 calories a slice, I can eat two while watching my calories and feel full. I also made this with chopped chicken instead of ham and it was pretty good, but I preferred the ham. Feel free to substitute ingredients you like, but keep in mind that may change the calorie count. The bread dough came in a pack of three, so it was really easy to make all three at the same time, slice them, and freeze them. I defrost mine in the microwave and then toast in the toaster oven to give it that fresh-baked crust.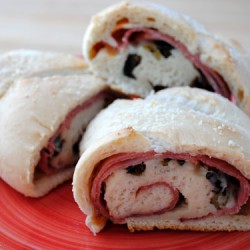 Quick Stromboli
New Dieter's Cookbook
makes 8 servings
per serving: 206 calories, 5g fat, 14g protein, 28g carbs, 2g fiber
Ingredients:
1-16oz. loaf frozen wheat or white bread dough, thawed
8 oz. lean ham, thinly sliced
1/4 cup pitted black olives, coarsely chopped
1/4 cup pimiento-stuffed green olives, coarsely chopped
1/4 cup shredded mozzarella
1/8 tsp. crushed red pepper flakes
1 tbsp. grated Parmesan, optional
Directions:
1. Line a 15x10x1-inch baking sheet with foil; grease foil. Set aside. On a lightly floured surface, roll bread dough to a 15x8-inch rectangle. Top dough with ham to within 1/2 inch of the edges. Top ham with olives, mozzarella, and red pepper flakes. Brush edges with water.
2. Starting with the long end, roll into a spiral, pinching edges to seal. Pinch ends and tuck under. Place seam side down on the prepared baking pan. Brush surface with water. Using a sharp knife, make shallow cuts diagonally at 2-inch intervals along the top to allow steam to escape. If desired, sprinkle with Parmesan cheese.
3. Bake in a 375F oven for 25 to 30 minutes or until brown. If necessary, cover loosely with foil after 20 minutes of baking to prevent overbrowning.