Yes, more pizza! I'm still not sick of making pizza at home. It's so incredibly easy to make and with the variety of toppings, it's a different pizza every time. I'm a huge mushroom fan and this Mushroom Pesto Pizza instantly caught my eye. I had a jar of pesto in the fridge and porcinis in the freezer, so there wasn't much else for me to buy to whip this up. Love using up items in my pantry/fridge so they don't go to waste.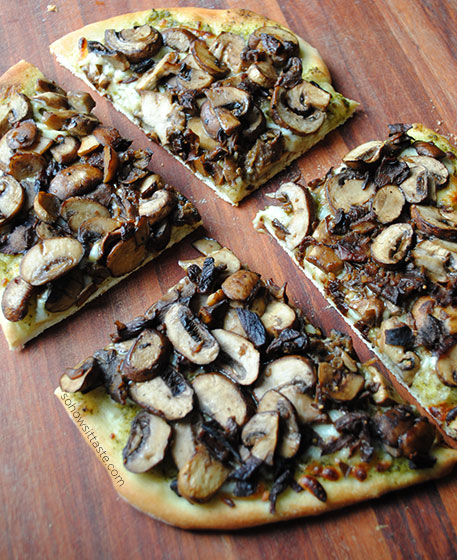 So, how's it taste?
I loved it! First, let me explain my pizza. I planned to halve this recipe, but as you can see I only halved the dough and piled on the mushrooms. Oops! I had a teeny bit more of the porcinis than the recipe called for, but not enough to make another recipe, so I used them all. Half of the other mushrooms in the recipe would have been six ounces, but I had an eight-ounce carton, so again I used them all. That's why you see mushroom overload on my pizza. I still loved it! I used baby bellas instead of the exotic mix of mushrooms because I'm cheap and I knew the porcinis would bring a ton of flavor, so paying extra for fancy mushrooms was pointless to me. The pesto served as the sauce and all those herbs and oil went perfectly with the mushrooms. There's a little bit of mozzarella underneath to make this cheesy. You could certainly use part-skim mozzarella instead of whole-milk mozzarella if you want to bump the calories down a bit.
As I'm writing this post, I'm thinking about how my mom and I used to order mushroom pizzas all the time. It was either plain mushroom, or if we were splurging it was pepperoni and mushroom. That is my favorite classic pizza combination. I think it was last year that my mom finally confessed to me that SHE HATES MUSHROOMS. First, what? I know tons of folks fall into that category, but they are so delicious. How can you hate them? They don't taste like celery (worst veggie ever). Second, what! Yes, folks, my mom ate mushrooms on her pizza for decades and acted like it was her favorite too all because it was my favorite. She's eaten countless meals with mushrooms in them, too. All because I like them so much. So when they give out the best mom ever award…mine totally wins.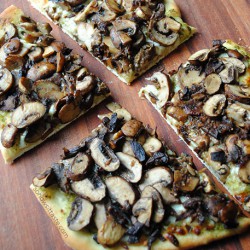 Mushroom Pesto Pizza
Cooking Light, April 2013
makes 4 servings
per serving (2 slices): 398 calories, 15.2g fat, 17.3g protein, 8.3g fiber, 46.5g carbs
Ingredients:
12 oz. refrigerated fresh pizza dough
Cooking spray
2/3 cup water
1/3 cup dried porcini mushrooms
1 tbsp. olive oil
3 (4 oz.) packages fresh exotic mushroom blend*
3 garlic cloves, minced
1/4 tsp. freshly ground black pepper
1/8 tsp. salt
3 tbsp. refrigerated pesto
3/4 cup whole-milk mozzarella cheese, shredded
*Note: You can substitute any type of mushroom as the porcinis will give a ton of flavor on their own.
Directions:
1. Place a pizza stone or heavy baking sheet in oven. Preheat oven to 500° (keep pizza stone or baking sheet in oven as it preheats).
2. Place the dough in a medium microwave-safe bowl coated with cooking spray. Cover and microwave at ­MEDIUM (50% power) 45 seconds. Let stand 5 minutes.
3. Combine 2/3 cup water and porcini in a 2-cup glass measuring cup. Microwave at HIGH 4 minutes or until tender; drain. Coarsely chop porcini.
4. Heat a large skillet over medium-high heat. Add oil; swirl. Add fresh mushrooms and garlic; sauté 5 minutes. Stir in porcini, pepper, and salt.
5. Roll dough into a 12 x 8-inch rectangle on a floured surface. Carefully remove pizza stone from oven; arrange dough on pizza stone. Spread pesto over dough, leaving a 1/2-inch border. Sprinkle cheese over pesto; top with mushroom mixture. Bake at 500° for 13 minutes or until crust is browned and crisp. Cut into 8 slices.