I've been focusing on eating better lately. Yes, counting calories, but really trying to add a lot more veggies and better foods into my diet. Before I attempted the 1-day juice cleanse, I'd had this plan to go to the grocery store and load up on good-for-me food. I came across a salad in Eating Well, but couldn't find quinoa at the grocery store so I substituted brown rice and made Snap Pea & Brown Rice Salad.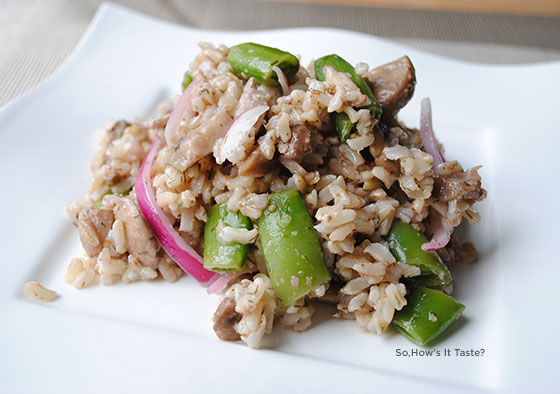 So, how's it taste?
I only intended to have a small bite when I made it because I had already broken the cleanse and was trying to push through it. One bite and I was gone! It's so amazingly good. I always had a bad impression of sugar snap peas, that they were boring and had a "funny crunch." What was I thinking? I tasted a few before I popped them into the salad and yum! Slightly sweet and they added a great texture to this already texture-loaded dish. Brown rice is a great vehicle for veggies and dressing. The lemon and olive oil keep it simple, with the dill adding an extra oomph. I used dried and this salad would be even more incredible with fresh. The mushrooms soaked up the dressing and I loved the bite from the red onion slivers (plus the pop of purple).
I loved it made fresh with brown rice…seriously went gaga over it, but the leftovers were awful. You know how reheated rice is just not the same as cooked fresh? The rice is too stiff and the mushrooms got too gushy and made it watery and tasteless the next day. I was surprised it didn't keep well. I want to make this again with quinoa as the original recipe calls for to see if it holds up better. Although this salad would be very easy to make a few servings at a time.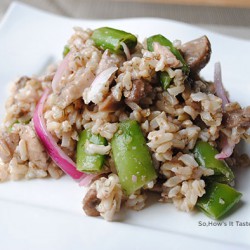 Snap Pea & Brown Rice Salad
Ingredients:
2 1/2 cups water
1 cup brown rice
2 cups fresh sugar snap peas, trimmed & cut diagonally into thirds
1 1/2 cups button mushrooms, cut into quarters if large
1/3 cup thinly sliced red onion, cut into 1-inch lengths
1 tbsp. chopped fresh dill (or 1/2 tbsp. dried)
1/3 cup white balsamic or white wine vinegar
1/4 cup olive oil
1 tsp. freshly grated lemon zest
1 tbsp. lemon juice
honey to taste, optional
Directions:
1. Heat water to a boil in a 2-quart heavy saucepan. Stir in rice, cover, reduce heat to a simmer.
2. Simmer 45 minutes or until all water is absorbed and rice is tender. Fluff lightly with a fork and set aside.
3. Combine peas, mushrooms, onion, and dill in a medium bowl. Whisk vinegar, oil, lemon zest, and lemon juice in a small bowl. Stir the dressing into the cooled rice until evenly dispersed. Add the rice to the vegetable mixture and toss. Taste to see if you'd prefer a touch of sweetness from the honey. (I did this in a serving size because I enjoyed it with and without honey.) Serve immediately.