Fall weather is finally upon us here in Nashville, but I've got to sneak in one last taste of warmer weather fare. This is my mom's egg salad and it's fantastic. This is pretty much the only egg salad I've ever known, and the others just don't compare. One bite of this and you'll never want another kind again.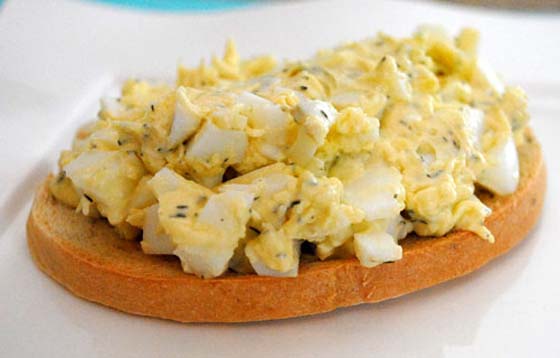 So, how's it taste?
It's the best egg salad you'll ever eat. Seriously. Two special ingredients really take this ordinary salad to the next level: cream cheese and dill. You might be tempted to skip the dill, thinking that it will make your dish taste like a pickle, but resist! It adds a great herb finish where most egg salads leave something to be desired. The cream cheese does exactly what you'd expect, adding richness and a decadent creamy texture. The chopped egg whites provide a nice contrast. I can't express in words how good this stuff is! Quite a step up from boiled eggs mixed with just mayo and mustard. It can be served on toast or crackers, or sometimes I like to make a big sandwich of it. I hope you enjoy it as much as I do.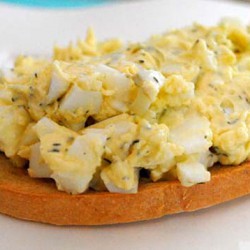 Mom's Egg Salad
a So, How's It Taste? original recipe
Ingredients:
6 eggs, hard-boiled
3 oz. cream cheese, room temperature
1/4 cup mayonnaise
1/2 tsp. dry mustard
3/4 tsp. dill, dried
1/4 tsp. onion powder
1/4 tsp. salt
Directions:
1. Place eggs in a saucepan and cover with cold water to an inch above eggs. Bring to a boil. Remove from heat, cover, and let sit for 14 minutes. Pour hot water out and immediately chill eggs.
2. Remove yolks from eggs and add to bowl, set aside. Chop egg whites, set aside.
3. Using a fork, break up yolks. Add all ingredients except for the chopped egg whites.
4. Fold in chopped egg whites. Chill.
5. Serve on toast or crackers.