It is my pleasure to introduce you to Kris Geist and Elizabeth Cole, the creators behind The Heirloom BLT Stand. This Saturday will be the second year the stand is featured at the annual Tomato Art Fest in East Nashville. I speak from experience when I tell you this is one of the best BLTs I've ever eaten, but I'll let Kris get your mouth watering in his own words. And then we'll expect to see you chowing down on Saturday!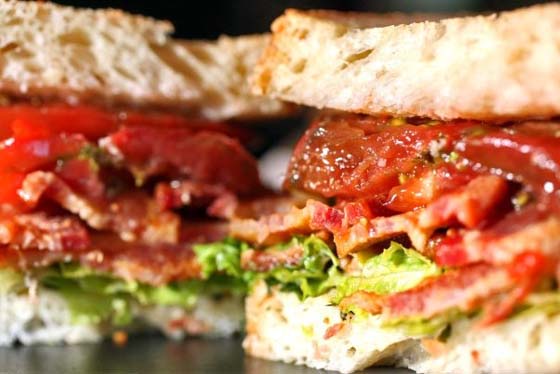 Photo of The Heirloom BLT courtesy of The Tennessean
Several years ago I set out on a quest to find the ingredients to create the perfect BLT. I found that each ingredient really affects the outcome. Now, don't get me wrong. Most combinations of bacon, lettuce, and tomato between two slices of bread are going to taste good. But, the perfect BLT needs balance, bright flavors, and an aesthetic appeal.
Let's start out with the most important component, the tomato. Large heirloom varieties with not a lot of tartness, and a low water level work the best. But it's always wise to go with what your local farmer is picking that week. Cherokee Purple, Brandywine, and Beefsteak are my favorites. I slice mine at least 3/4" thick.
Speaking of thick, a good thick cut bacon will go a long way towards your perfect BLT. In my opinion, most of the local bacon is over-smoked. I use Wright Brand bacon found in most grocery stores. Wright Brand uses real hickory to smoke their bacon unlike most of their competitors that just use liquid smoke that is sprayed on to the product.
Next, chopped iceberg lettuce provides a much needed crunch in the middle.
My herb mayo is easy to make and good on any sandwich. I'll leave the Miracle Whip vs. mayo debate for another article, but I use Miracle Whip. Its tangy flavor holds its own against the other strong flavors in the sandwich. Mix one cup of Miracle Whip with about two tablespoons of dijon mustard and a handful of finely chopped herbs.
Finally, the bread that holds it all together is a semolina loaf from a local bakery, Provence. The semolina is crusted with sesame seeds that, when baked, take on an almost bacon-y flavor.
Now that I've found my perfect BLT, I want everyone to try it. So once a year I open my Heirloom BLT Stand for business at the Tomato Art Fest in East Nashville. Come early, because once they're gone, they won't be back for another year.
Note from So, How's It Taste?:
If bacon's not your thing, try the GLT, where homemade guacamole is the perfect vegetarian stand-in. And yes, there's a GBLT (which is my choice – and it's phenomenal!) combining the best of both worlds.
Find The Heirloom BLT Stand from 10 a.m. to 6 p.m. in front of 3 Crow Bar this year. See you there!