Lately I haven't been in the mood to do much cooking if it takes more than a few minutes. I'm craving quick and easy meals, but they have to taste good and they need to be somewhat healthy. After searching for a sandwich that wouldn't blow out my calorie budget, I finally decided on this Grilled Turkey, Apple, and Cheddar Sandwich. I'm a fan of all three, but I have yet to experience apples with Cheddar. My mom tells me my grandmother used to add a slice of cheese to her apple pie. I haven't made that leap yet, but I can definitely get on board with a slice of sharp Cheddar and Granny Smiths in the same bite!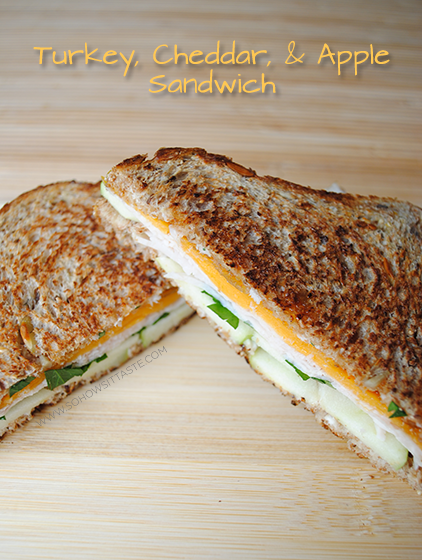 So, how's it taste?
The first sandwich I made was good, but the parsley took over. I really like fresh parsley (especially in pasta) because it can really brighten up a dish, but it was all I could taste. That beautiful, tangy, mango chutney completely disappeared. So I left the parsley off of my next sandwich and it was perfect! There are so many different textures and flavors going on in each bite. I used Genesis Bread because of the texture with the seeds and grains, and it's really hearty. Next is the mango chutney. It's tangy and fruity, and has chunks of mango. The turkey adds protein and I bought very sharp Cheddar…the good stuff. Most of the calories come from the cheese, but reduced-fat sharp Cheddar cheese is tasteless, so it's worth the splurge to get the real stuff. I loved the creamy, melty cheese in contrast to the crunch of the Granny Smith apples. I did think they were a bit too tart and would probably prefer a Fuji or Gala apple next time. If you don't want to get out a pan or deal with the taste from cooking spray, use your toaster oven! I put the mango chutney on each slice of bread, cover one slice with turkey, the other with Cheddar, and toasted them open-face in my toaster oven until the cheese melted. Take them out and add the apple slices. As good as grilled!
I'm so excited because I joined a gym and I'm going to my first aerobic class later today…and it's step! I know it's not popular anymore, but I love step. I always feel like I'm learning a routine and then performing it, ha ha! I've been walking Vanderbilt's campus during lunch and it's getting too hot (and a little boring), so I'm ready for some new moves. There's also boot camp and barre classes I can't wait to try out. I've been working on shedding a few pounds and I'm down seven so far! That's why you've been seeing more figure-friendly recipes here on the blog. Don't worry, you'll still see sweet treats because of coworker birthdays, and well, a girl can't be good all the time. 🙂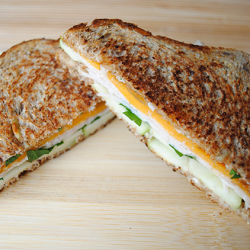 Grilled Turkey, Apple, and Cheddar Sandwich
Ingredients:
8 (1 oz.) slices multigrain bread
8 tsp. mango chutney
4 (1 oz.) slices sharp cheddar cheese
4 oz. sliced lower-sodium turkey
1/2 cup fresh flat-leaf parsley leaves
1 Granny Smith apple, sliced thin
Cooking spray
Directions:
1. Spread each of 4 bread slices with 2 teaspoons chutney. Top evenly with cheese, turkey, parsley, apple slices, and remaining 4 bread slices. Coat sandwiches with cooking spray.
2. Heat a large skillet over medium heat. Coat pan with cooking spray. Add sandwiches to pan; cook 3 minutes or until browned. Turn sandwiches; cover and cook 2 minutes or until cheese melts.
per serving: 344 calories, 11.6g fat, 19g protein, 41g carbs, 4g fiber