I'm coming off of 10 days of glorious vacation! It's a little challenging to get back into the swing of things with getting up early for work, getting ready for work, driving to work, being at work. Sensing a theme here? Yeah, I'm happy to be employed, but I sure do miss being on my own schedule, which most days didn't include wearing makeup or heels. Getting used to my work schedule isn't the only thing challenging me. It's also going back to not eating the house down. No more Doritos, no more Devil Squares. Luckily I've got this fantastic, low calorie dinner that tastes like I'm still on vacation. This Tilapia with Fennel-Yogurt Sauce paired with Red Pepper Couscous makes me feel like I'm still splurging, but is much kinder to my hips than all those Doritos!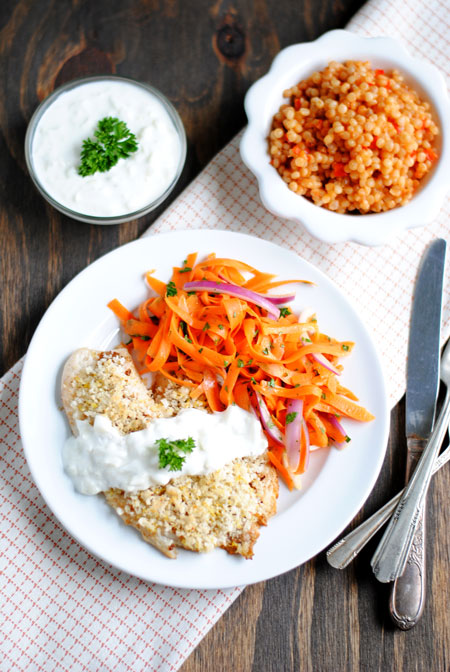 So, how's it taste?
I found this entire meal in Cooking Light and I love when they do the planning for me. Tilapia is my favorite fish because it's so mild and will pair well with just about any flavor combination. It's spiced with cumin, coriander, and red pepper, and then coated in panko, lemon, and black pepper. I love the crunch that comes from the panko. The fish gets cooked in a garlic-scented oil and then finished under the broiler.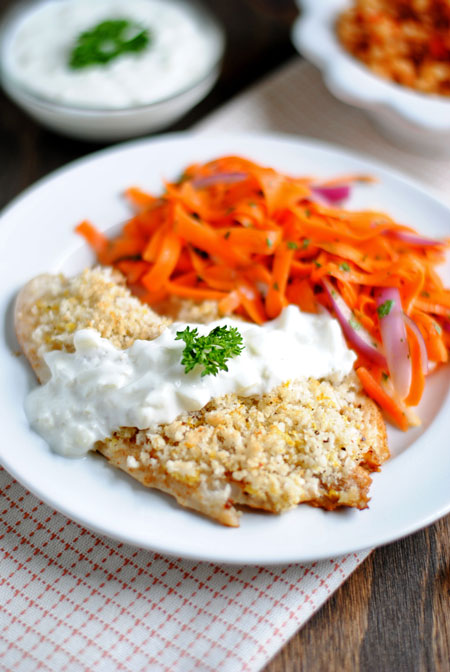 I went nuts over the yogurt sauce. I'm a big fan of fennel, but wasn't sure if I'd like it raw. It really mellows out when you cook it, so I was curious if it would be too strong in the yogurt. Nope! I slathered this stuff everywhere. I even put it in the couscous! It's tangy and slightly sweet and has a subtle fennel flavor. Full disclosure, I didn't use the fronds in mine because they looked like death warmed over, so that may up the fennel flavor if you do that. The tang from the yogurt really tames the fennel I thought. I loved the extra crunch, too. If fennel isn't your thing, you could definitely use cucumber instead.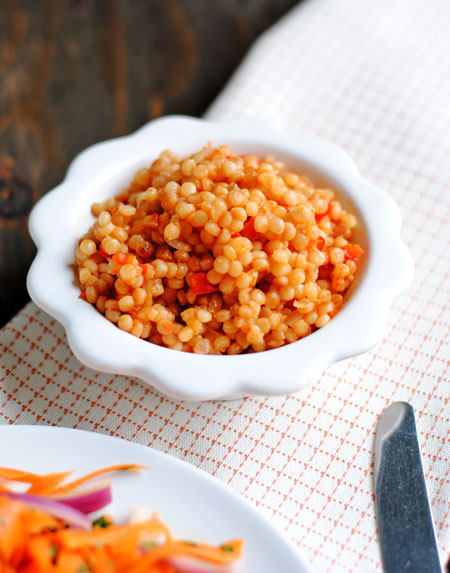 This was my first time cooking with the large couscous. I really liked it and since this version is so simple, I think it needed the larger pearls. For extra flavor, it's cooked in chicken stock (or broth) and then it's just red pepper, red onion, and tomato paste. I added a touch more tomato paste to mine and it's glorious! It added so much to such a basic dish. It went really well with the tilapia, too, even though the flavors are quite different. You'll also see in the picture that I made the shaved carrot salad. This wasn't my thing. It wasn't as good as the fish and couscous and I wouldn't make it again. Very plain and quite flavorless despite the ingredients.
Here's hoping that I can stay on track with more meals like this and forget about those darn Devil Squares. Now I see why they're named that!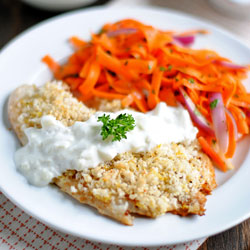 Tilapia with Fennel-Yogurt Sauce & Red Pepper Couscous
Ingredients:
Tilapia with Fennel-Yogurt Sauce
1/2 cup finely chopped fennel bulb
1/2 cup plain fat-free Greek yogurt
1 tbsp. chopped fennel fronds
1 1/2 tsp. white wine vinegar
1 tsp. honey
3/4 tsp. kosher salt, divided
1/2 cup panko
1 tbsp. grated lemon rind
1/2 tsp. freshly ground black pepper
5 tsp. olive oil
1 garlic clove, thinly sliced
1/2 tsp. ground coriander
1/2 tsp. ground cumin
1/4 tsp. ground red pepper
4 (4-oz.) tilapia fillets
2 tbsp. fresh lemon juice
Red Pepper Couscous
1 tbsp. olive oil
1 cup uncooked Israeli couscous
3/4 cup chopped red bell pepper
1/2 cup chopped red onion
1 1/2 cups unsalted chicken stock
1 tbsp. unsalted tomato paste
Directions:
1. For the yogurt sauce, combine fennel bulb, yogurt, fronds, vinegar, 1 teaspoon honey, and 1/4 teaspoon salt in a bowl, stirring with a whisk. Set aside.
2. For the couscous, eat olive oil in a saucepan over medium heat. Add couscous; sauté 3 minutes. Add bell pepper and onion; sauté 4 minutes. Add chicken stock and tomato paste; bring to a boil. Cover, reduce heat, and simmer 10 minutes.
3. For the tilapia, preheat broiler to high. Combine 1/4 teaspoon salt, panko, rind, and black pepper in a bowl. Heat oil and garlic in an ovenproof skillet 1 minute or until garlic is golden. Remove garlic from pan with a slotted spoon; discard. Add 2 teaspoons oil from pan to panko mixture; toss to coat.
4. Return pan to medium-high heat. Combine coriander, cumin, red pepper, and remaining 1/4 teaspoon salt in a bowl. Sprinkle one side of fillets with spice mixture. Add fillets, spice-side down, to remaining oil in pan; cook 3 minutes. Turn fillets; top evenly with panko mixture. Add lemon juice to pan. Place pan in oven; broil 90 seconds or until topping is golden and fillets are done. Serve with yogurt sauce.
per serving (tilapia & sauce): 216 calories, 8g fat, 27g protein, 10g carbs, 1g fiber
per serving (couscous): 217 calories, 3.9g fat