Here's a quick and easy meal for those days you want something delicious, but don't want a lot of effort in the kitchen. Enter Lemon Basil Chicken Pitas. Make the chicken ahead of time, toss the ingredients together, and stuff in a pita. That's it! You'll love the light, refreshing flavor and it's figure-friendly at around 250 calories per serving.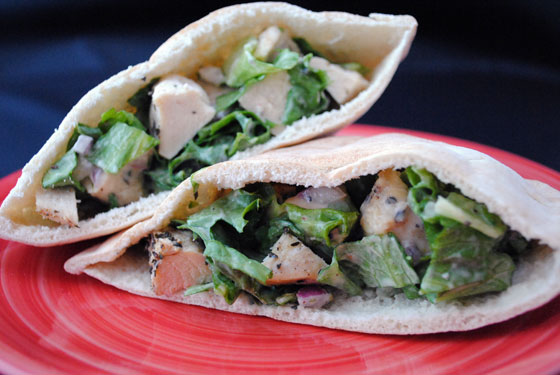 So, how's it taste?
Big lemon flavor with fresh basil just can't be beat. I bake my chicken beforehand and season it with salt, pepper, and a bit of dried basil. Once it's cooled, chop it into bite-sized pieces and it's ready to toss into this sandwich any time. I store the chicken separate from the mayo mix and it's easy to assemble. I like mine very lemony, so add your juice gradually if you want to tone it down. Simple ingredients, but it's such a great low-calorie lunch.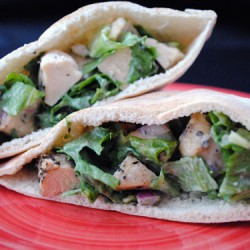 Lemon Basil Chicken Pitas
Ingredients:
1/4 cup reduced-fat mayonnaise
1/4 cup chopped red onion
2 tbsp. chopped fresh basil
4 tsp. fresh lemon juice
1/4 tsp. salt
1/8 tsp. freshly ground black pepper
5 oz. chopped cooked chicken
2 cups lettuce, any kind
2 rounds pita bread, cut in half
Directions:
1. In a medium bowl, stir together the mayonnaise, onion, basil, lemon juice, salt, and pepper. Fold in the chicken.
2. Divide the lettuce among the pita halves. Spoon 1/4 of the chicken mixture into each pita half.