I've gone smoothie crazy in my kitchen. Which is a good thing I think. This Lite 'n Luscious Smoothie comes courtesy of the same ladies that introduced me to the Starburst Smoothie. Only this time, it's from their second smoothie book, Super Smoothies: 50 Recipes for Health and Energy
. What I like about this book, compared to their first, is that it's organized by what you want to achieve with your smoothie. Need more energy? Check. Curing a hangover? Check. Want low calorie, but delicious? Check. You know which one I gravitate to…low calorie of course! That's my one pet peeve with smoothies is that they tend to be pretty high in calories. Not this one. At only 136 per serving, you can almost afford to drink two!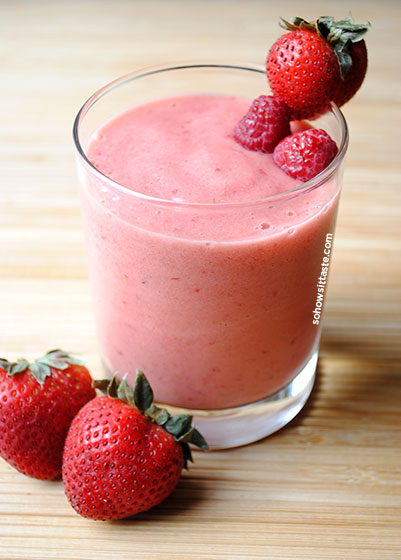 So, how's it taste?
Loved it of course! I don't really go into making any smoothie thinking it won't turn out well…unless there's spinach or kale involved. Haven't ventured into that area just yet. First, you'll notice the gorgeous pink color of this smoothie. It screams "Hey! I'm full of strawberries and raspberries! Drink me!" Another thing I'm really enjoying about the two smoothie books are that they don't use ice much. Using a combination of fresh and frozen fruit gets you that consistency without watering down your smoothie. They use frozen bananas a lot for their base, which I'm a huge fan of bananas in smoothies. To keep this one low calorie, unsweetened apple juice is the liquid, so the bananas help to add the sweetness that you aren't getting by loading up on sugared apple juice. Fresh strawberries and frozen raspberries are then blended in and that's where you get the pretty color. The raspberries are a bit tart, so they work together to make a nice, balanced smoothie.
If, like me, you have a hard time remembering in advance to freeze your bananas, don't fear! I've discovered if you use frozen berries, you can use fresh bananas. I keep my freezer stocked with frozen berries, but you can't really store frozen bananas (they turn funky colors). So this switcheroo works very well to keep that great smoothie consistency.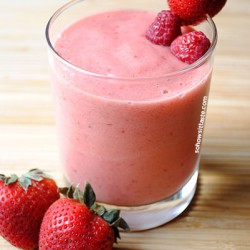 Lite 'n Luscious Smoothie
Ingredients:
3/4 cup quartered fresh strawberries
3/4 cup unsweetened apple juice
1/2 cup frozen, unsweetened raspberries
1 frozen banana, sliced
Directions:
1. Combine all the ingredients in a blender or food processor. Blend until smooth. Serve immediately.
per serving: 136 calories, 0.5g fat, 34g carbs, 5g fiber, 1.5g protein
Source: Super Smoothies: 50 Recipes for Health and Energy
This post contains affiliate links.