I have really been on my kick of cooking without meat! One of my last meatless recipes from the grocery shopping spree is the Santa Fe Egg Bake. This dish seemed like a good one because it's so simple to make and sounded delicious with the cheese, black beans, and southern-style hash brown potatoes. I intended for this meal to be a dinner option, but little did I know how fabulous it could be for a hearty breakfast!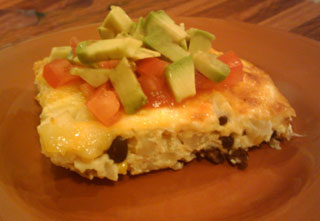 So, how's it taste?
Just like I imagined it would. Absolutely perfect with the eggs, cheese, and potatoes. Almost like a really hearty frittata. I topped my serving with salsa, diced tomatoes, and chunks of avocado. It was to die for! If I wasn't trying to watch the calories, I would add a nice dollop of sour cream as well. The ingredients go so well together in this recipe. The recipe shows this makes six servings, but I cut mine into eight and was still full after adding my toppings. I will make this one again!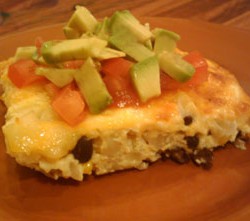 Santa Fe Egg Bake
Ingredients:
4 cups frozen southern-style hash brown potatoes
1 can (15 oz.) black beans, drained, rinsed
1 cup fresh or frozen whole kernel corn
1 cup frozen stir-fry bell peppers and onions, from 1-pound bag
2 cups shredded Colby-Monterey Jack cheese (8 ounces)
2 tablespoons chopped fresh cilantro
8 eggs
1 1/4 cups milk
1/2 teaspoon salt
1/4 teaspoon ground red pepper
Directions:
1. Spray rectangular baking dish, 11x7x 1 1/2 inches, with cooking spray. Mix potatoes, beans, corn and stir-fry peppers and onions in baking dish. Sprinkle with cheese and cilantro.
2. Beat eggs, milk, salt and red pepper until well blended. Pour evenly over potato mixture. Cover and refrigerate at least 2 hours but no longer than 24 hours.
3. Heat oven to 350ºF. Bake uncovered 55 to 60 minutes or until knife inserted in center comes out clean. Let stand 5 minutes before cutting.