According to Pinterest, I pinned this salad 47 weeks ago. FORTY-SEVEN. Not only is Pinterest a time suck, it's also where recipes go to die, lol. It's supposed to be your virtual spot of reminders to interesting things on the web, but for me it ends up being a way for me to pin and forget. I should set a weekly date for me and Pinterest where I review pins and get to eating! I finally made a slightly adapted version of this salad and renamed it Spinach Walnut Power Salad. Now I'm kicking myself that I let all that time pass without this salad in my life. So let me save you some guilt and tell you to make this salad right now! Pin it, but don't forget it!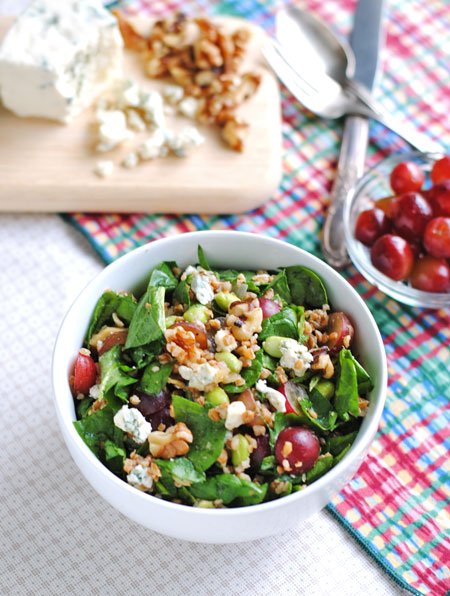 So, how's it taste?
I'm ooing and aahing over salad, y'all. This isn't your average boring-lettuce-with-some-veggies-drowning-in-dressing meal. It's all I want to eat. Everyday. All day. Except one serving packs such a powerful punch (get it, power salad, har har) that you'll be completely satisfied and so full you'll just have to resort to counting down the hours until your stomach has space for another one.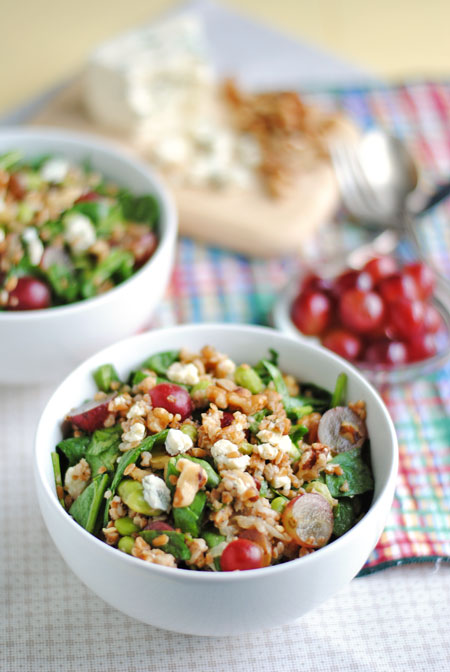 There's so much texture going on, plus it's savory and sweet…and healthy. It starts with caramelizing onions and combining them with your cooked bulgur and edamame. Once this mixture cools (I prefer mine super cold, right out of the fridge) add the dressing. It's the simplest of dressings, but OMG rocks my world! The original recipe uses only honey, but I think taking it a step further with a full-on dressing makes this spectacular. It toned down the sweet and brought a few new flavor elements to the dish that I really enjoyed. The bulgur soaks up the dressing and there's just enough left over for when you add the spinach, it wilts just perfectly. Next are sweet, juicy grapes, crunchy walnuts, and the pièce de résistance (I'm so fancy)…crumbled blue cheese!
Be still my beating heart. Do you know how good blue cheese is with walnuts and sweet grapes? The flavor profile sort of reminds me of these Gorgonzola Date and Walnut Tartlets. I do a happy dance every time I get to add blue cheese. This salad makes six servings, but if you store the cooked onions, bulgur, and edamame together in the fridge, you can easily make one salad at a time. For the dressing, I just make it individually when I want this salad. I've made it so much lately that I just eyeball the ingredients.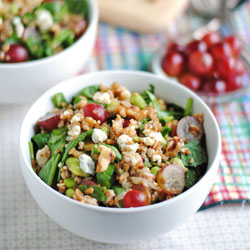 Spinach Walnut Power Salad
Ingredients:
Salad
2 tbsp. butter
small yellow onion, thinly sliced
1 cup quick cooking bulgur
2 cups cold water
2 cups edamame
fresh baby spinach (add as much or as little as you want)
2 cups seedless red grapes, washed and cut in half
3/4 cup walnuts
1/2 cup crumbled blue cheese
Dressing
6 tbsp. olive oil
3 tsp. dijon mustard
3 tsp. balsamic vinegar
3 tsp. honey
salt & pepper to taste
Directions:
1. Melt the butter in a medium saucepan over medium-low heat. Add onions and saute about 15-20 minutes, stirring occasionally, until onions are soft and golden brown.
2. Meanwhile, add the bulgur and water to a medium saucepan. Bring to a boil; cover and simmer for 12 to 15 minutes or until tender. Drain off any access liquid. Stir in edamame, caramelized onions, and any butter drippings left in pan. Set aside to cool. (I preferred this mixture to be cold from the fridge in my salad rather than just letting it cool, but try it at both temperatures and see what you like.) At this point, you can store the bulgur mixture in the fridge and scoop out what you need if you want to make individual salads instead of one big salad for six.
3. For the dressing, mix all the dressing ingredients and whisk until combined. Season with salt and pepper to taste.
4. Add the dressing to your cooled bulgur mixture. Next stir in the spinach. Just eyeball how much you want in your salad. It's healthy so it's up to you how much or how little you want. It will slightly wilt down due to the dressing. Gently stir in the grapes, walnuts, and blue cheese. Serve immediately.