It's surprising to me how a simple side dish can have such a wow factor. Yes, this is a dish of onions, and I really like onions, but they don't usually leave such a lasting impression as Port-Glazed Pearl Onions. Cooking these little beauties in port creates this fantastic glaze. It's sweet, and thick, and rich, and goes perfectly served over Steakhouse Steaks.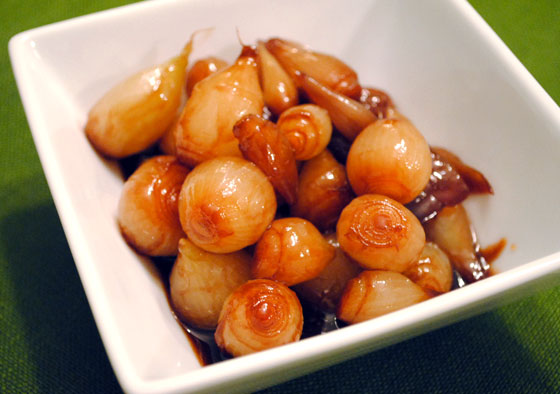 So, how's it taste?
I could seriously eat an entire bowl of these pearl onions by themselves with a spoon. They are so tender and full of so much flavor. Pearl onions aren't overly oniony to begin with, so when they simmer in a port-sugar-vinegar concoction, they turn into almost a dessert. I think the vinegar keeps it from being over-the-top syrupy sweet, and the bit of butter at the very end makes it insanely decadent.
If you can find red pearl onions, they work even better in this dish to show off the port color. I could only find white and they work just as well, but you don't get as much of the pretty red color.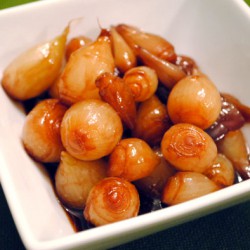 Port-Glazed Pearl Onions
Ingredients:
2 cups pearl onions, peeled
1 1/2 cups tawny port
1 tbsp. sugar
1 cup low-sodium beef stock
1 tbsp. red wine vinegar
2 tbsp. unsalted butter
coarse salt & freshly ground black pepper
Directions:
1. In a medium saucepan, bring onions and port to a simmer over medium heat. Reduce to a thin syrup, stirring occasionally, about 10 minutes.
2. Add sugar and cook until dissolved, about 1 minute. Add stock and vinegar and simmer (do not boil) until reduced and thickened, and the onions are tender, about 10 minutes. Add butter, stirring until melted. Season with salt and pepper.