I do the happy dance when I find recipes for my favorite foods, but that are healthier versions. It's like having your cake and eating it, too! I love beans and rice, especially when I can swirl them with a dollop of creamy, cool sour cream. When I go to Mexican restaurants and the combo comes with only one, it's the toughest decision deciding between the two. I really could just eat a large plate with both and call it dinner. Now you see why I was so giddy when I tried Chipotle Black Beans with Mexican Rice. It's a healthier version than what you'll find in restaurants, but with some major flavor twists.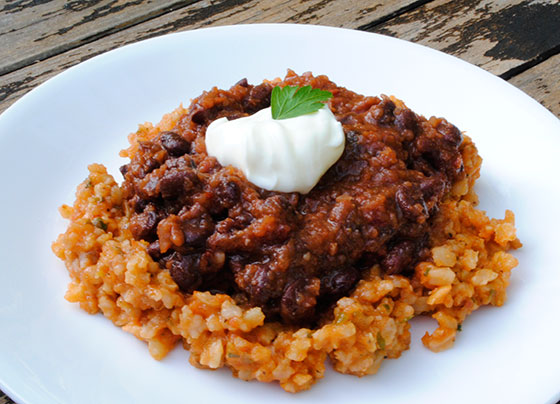 So, how's it taste?
I gotta tell you I was nervous about this one. It's kind of a lot to put together, although worth it for all the flavor. The rice starts in a skillet and then finishes cooking in the oven, which was what made me worry. It took forever to cook. There's a homemade tomato sauce that goes in both the rice and beans and it's really thin. I didn't think the rice would ever soak up all that moisture. Next time I'll cook the rice in a saucepan and forget the oven part. Same with the beans in that I thought they'd be super runny and never thicken, but they eventually did. Even though the cooking had me a little flustered, I knew the flavor would be outstanding. The rice is cooked with the simple tomato sauce, garlic, jalapeño, broth, and tomato paste. The beans get their big flavor from more of the homemade tomato sauce, cumin, chili powder, and chipotles. Both went together so well and of course, I topped my servings with sour cream! A bit of cilantro brightens the dish, too.
This is another great recipe that comes from the Everyday Healthy ebook. I've really enjoyed every dish I've made from it so far. I have found a few tweaks here and there to the calorie count, but mostly to my benefit. For instance, this recipe is four servings, but it's way too much food that way. I easily got six out of this recipe, so that lowered the calorie count. There's so much variety in the type of dishes, I can't wait to try more. If you'd like to get the recipe for this dish or the Pra Ram Long Song, check out Everyday Healthy. You can view the full recipe I adapted for Moroccan Salad with Cilantro Orange Dressing for a sample. Happy healthy eating!
This post contains affiliate links.