I really got into Fall mode this past Sunday. Windows open and a pot of veggies simmering on the stove for soup. I'm a huge fan of Broccoli Cheese Soup, but it can easily get a little overboard in the calorie department. I found a simple recipe from Cooking Light for a more figure-friendly version. It's not as thick and creamy as it's not-so-light counterpart, but at 160 calories per serving, I'm not complaining.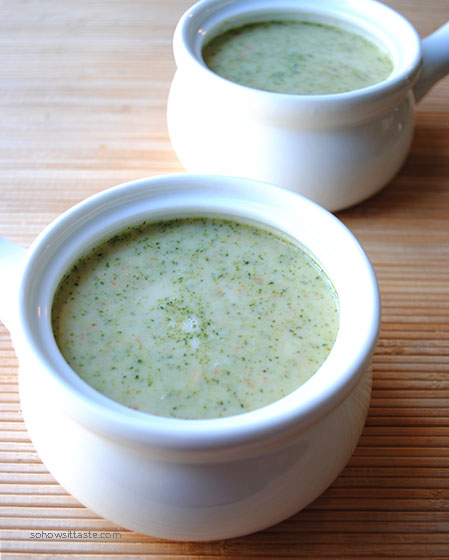 So, how's it taste?
Good, but won't take the place of any creamy, cheesy, rich version. Whenever I see a recipe call for unsalted stock or broth, I usually completely ignore that and buy the regular. I wish I had taken my own advice for this one, too. I stuck to unsalted and it made the soup bland, so I ended up adding more salt to the finished product. Yes, you can control your own salt, but I find using regular stock satisfies my palate and having the broccoli and other veggies cook in salted broth would have brought out their flavor more. While I enjoyed a cup of this, it was thin soup and I really missed that creamy consistency. I was hoping the half-and-half would remedy that and it may be my own fault. I opted to shave off a few more calories in my version by using fat-free half-and-half. I think that was a mistake. That bit of fat from real half-and-half would have gone a long way to satisfying my need for this soup to have a creamy touch. I also skipped the sharp cheddar for a four cheese blend because I had it on hand and needed to use it up. The recipe calls reduced-fat sharp, but I highly recommend splurging on the real stuff. Sharp cheddar just isn't the same in its reduced-fat version.
All in all this wasn't a bad soup, just needs some minor tweaks. I'll give it bonus points for being so low in calories though. That just means you can add a salad or a big hunk of crusty bread to round our your meal and not feel guilty!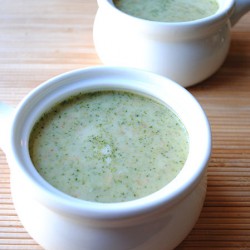 Broccoli Cheese Soup
Ingredients:
3 cups unsalted chicken stock
1 3/4 cups broccoli florets, coarsely chopped (about 8 oz.)
1 cup diced yellow onion
1/2 cup chopped carrot
3/8 tsp. salt
1/4 tsp. freshly ground black pepper
2 garlic cloves, minced
3/4 cup half-and-half
4 oz. shredded reduced-fat extra-sharp cheddar cheese, divided
Directions:
1. Combine first 7 ingredients (through garlic) in a large saucepan; bring to a boil. Reduce heat, and simmer 10 minutes or until broccoli is tender.
2. Pour soup into a blender. Remove center piece of blender lid (to allow steam to escape); secure lid on blender. Place a clean towel over opening in blender lid (to avoid splatters). Blend until smooth.
3. Return soup to pan. Stir in half-and-half and 2 ounces cheese. Top evenly with remaining cheese.