I have been putting my slow cooker to good use lately. Nothing's easier than putting ingredients in one pot in the morning and by evening having a meal ready. The smell in your kitchen is almost torture though. What I like best about this Smoky Ham and Navy Bean Stew is the simplicity and ease of the ingredients. The only work involved is chopping the vegetables!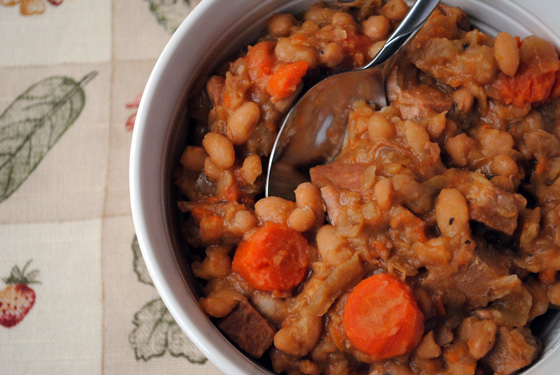 So, how's it taste?
This stew has such a hearty flavor. The slow cooked ham is incredibly tender and the touch of liquid smoke really makes this dish. A bowl of this is very filling with the meat and beans. It's not the prettiest meal in the world, but I looked forward to eating the leftovers. I added a few splashes of hot sauce to really spice things up. I don't eat celery so I just doubled the carrots in mine. To cube the ham easily, ask your local deli to slice a 1-inch piece for you and you can later cut it into cubes. You can buy exactly a pound that the recipe calls for, too, instead of buying a fully cooked ham.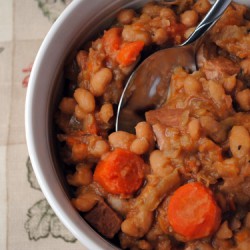 Smoky Ham and Navy Bean Stew
Ingredients:
1 lb. cooked ham, cut into 1/2-inch cubes (3 cups)
2 cups water
1 cup dried navy beans
2 medium stalks celery, sliced (1 cup)
2 medium carrots, sliced (1 cup)
1 small onion, chopped (1/4 cup)
1/4 tsp. dried thyme leaves
1/4 tsp. liquid smoke
1/4 cup chopped fresh parsley
Directions:
1. In 3 1/2- to 4-quart slow cooker, mix all ingredients except parsley.
2. Cover; cook on low heat setting 10 to 12 hours.
3. Just before serving, stir in parsley.