I think it's odd to start a post on something you've made with "I really don't like this but…", but I seem to have fallen victim to this. It started on my baked oatmeal post and now I'm doing it again. Perhaps my taste buds are changing, perhaps I'm keeping an open mind with food that used to make my nose turn up. Who knows. So here goes…I don't like pimiento cheese. I used to as a kid, but got sick on it back when Lunchables offered a pimiento cheese and crackers lunch (don't know if they still do, but blech). I haven't looked at pimiento cheese with a friendly face since. Fast forward a billion years and as I'm flipping through Cooking Light, I stop on Open-Faced Pimiento Cheese BLTs. Say what! I think it's my love of bacon and BLTs that made me give this Southern spread another taste.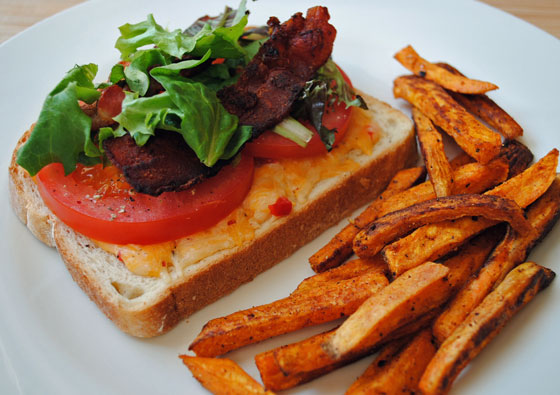 So, how's it taste?
Pleasantly surprised on this one. It's not the pimiento cheese Southerners know and love that's swimming in mayo. This version is "loose" if you will, so it makes it a tad bit finicky to spread, but the flavor is worth the extra effort. It's tangy from the cider vinegar and sharpness of the Cheddar. The small amount of mayo mellows it out and leaves more room for the pimientos to shine. Who knew they actually had big flavor in this spread? The non-traditional addition of Parmesan is genius. It's salty and a tad bit nutty and gives another depth to the spread. Cooking Light served theirs straight up, but due to it's texture, I decided to broil it and let the cheese melt. Now who's the genius?
Topped with fresh, juicy tomatoes, crunchy, salty bacon and a few hand-shredded pieces of lettuce, you've got one heck of a sandwich! Oh and yes, my bacon is hella burnt and that's just how I like it. I don't want to chew on any fat, I want it to crumble. That's how my mamma cooks it therefore that's how I grew up eating and enjoying it! Cook your bacon to your liking and hey, if you're not counting calories, go on an add another piece or two to your BLT.
Pimiento cheese is such a great addition to this sandwich. Kind of like a merging of two classics. If you enjoy pimiento cheese, I hope you give this twist a try. If you're like me and have snubbed the stuff for years, I hope this inspires you to give it another taste. Ah, the power of bacon.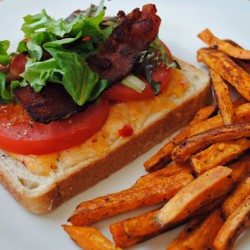 Open-Faced Pimiento Cheese BLTs
Ingredients:
2 tbsp. diced pimientos from a jar, drained
1 tbsp. shallots, finely chopped
2 tbsp. low-fat mayonnaise
1 tsp. cider vinegar
1/4 tsp. freshly ground black pepper, plus extra for sprinkling
4 oz. shredded reduced-fat sharp cheddar cheese (about 1 cup)
1 1/4 ounces grated fresh Parmesan cheese (about 1/3 cup)
4 (1-ounce) slices sourdough bread, toasted
8 tomato slices
4 center-cut bacon slices, cooked and halved
1 cup baby arugula leaves or Spring mix lettuce
Directions:
1. Combine first 7 ingredients in a large bowl (from pimientos through Parmesan). Spread 3 tablespoons cheese mixture on each bread slice. Place under broiler in a toaster oven or oven until cheese is just melted.
2. Top each sandwich with 2 tomato slices. Sprinkle tomato slices evenly with freshly ground black pepper. Top each sandwich with 2 bacon halves and 1/4 cup arugula or lettuce.