It's two days from officially being spring. Two days! I've never been so excited for winter to be over. I'm starting to crave lighter foods like this amazing Lemony Orzo Salad with Chicken. Not only is it light as in the opposite of a rich, heavy meal, it's also light as in low calorie. You know I love me some super tasty low calorie eats! This salad is really quick and easy to prepare. It's mixed with a tangy lemon dressing and tossed with rotisserie chicken, cucumbers, green onions, fresh dill, and goat cheese. I've been eating it for lunch all week with no complaints!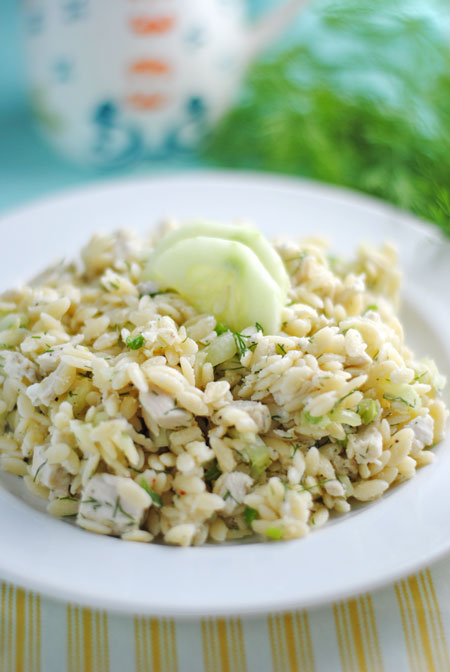 So, how's it taste?
I love meals like this. Simple to put together, tastes great freshly made, and leftovers are even better. The tender pasta works beautifully with the chunks of tender rotisserie chicken and crunchy cucumber. I'm a fresh dill addict, so I doubled the amount. The dressing is very simple: lemon juice, lemon zest, minced garlic, olive oil, salt, black pepper, and a touch of honey. I omitted bell pepper from the original recipe because it called for red, which is my least favorite, and I just wasn't in the mood for it. Honestly, I don't think I would've liked it with bell pepper. The flavors are so perfect without it. You could also omit the chicken and serve this as a side to any meal.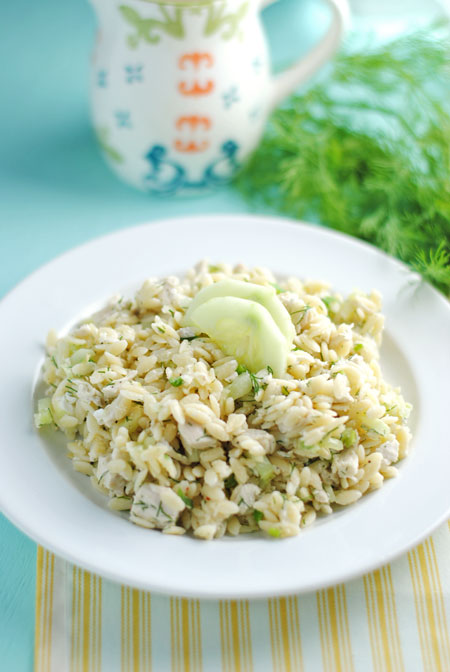 What do you think about the pics in this post? I finally got around to playing with shooting food in artificial light. They aren't quite there yet, but I was really surprised at how well they turned out. I don't know why I've put off doing this! It's so nice to not be confined to shooting when the sun's out. I used my Lowel EGO Digital Imaging Tabletop Fluorescent Light Unit
and it was really easy. It gives off more of a blue-toned light, like natural sunlight, as opposed to red/orange tones you can get from incandescent lights inside. I'm going to try it again tonight so I can share the recipe for these yummy, healthy quesadillas with you soon!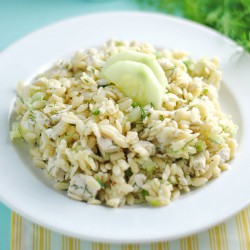 Lemony Orzo Salad with Chicken
Ingredients:
3/4 cup uncooked orzo
1/4 tsp. grated lemon rind
3 tbsp. fresh lemon juice
1 tbsp. extra-virgin olive oil
1/2 tsp. kosher salt
1/2 tsp. minced garlic
1/4 tsp. honey
1/8 tsp. freshly ground black pepper
1 cup shredded skinless, boneless rotisserie chicken breast
1/2 cup diced English cucumber
1/3 cup thinly sliced green onions
1 tbsp. chopped fresh dill (I used 2 tbsp.)
1/2 cup crumbled goat cheese
Directions:
1. Cook orzo according to package directions, omitting salt and fat. Drain and rinse with cold water; drain and place in a large bowl.
2. While orzo cooks, combine lemon rind and next 6 ingredients (through black pepper), stirring well with a whisk. Drizzle juice mixture over orzo; toss to coat. Add chicken and next 3 ingredients (through dill); toss gently to combine. Sprinkle with cheese.
per serving: 275 calories, 9.7g fat, 18.2g protein, 28g carbs, 1.8g fiber
This post contains affiliate links.