I made these Ham & Swiss Sliders for a party and I knew they'd be a hit from the Hawaiian sweet bread alone, but I had no idea exactly how good they'd turn out. I love a good sandwich, and bite-sized is even better. This is a super simple dish to throw together for a party or even make for dinner. You could use any good dinner roll, but I highly suggest sticking with the Hawaiian sweet.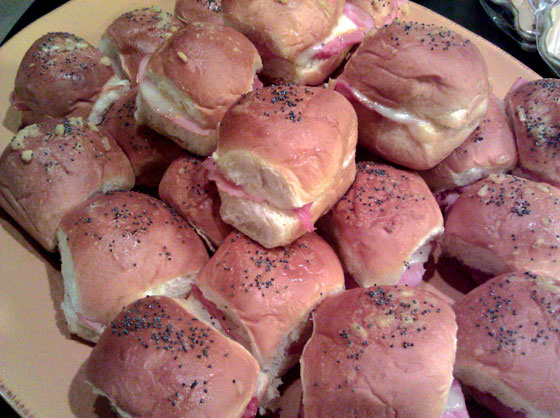 (please excuse the picture, I took it from my phone)
So, how's it taste?
Awesome! I remember taking that first bite and saying, "Oh my these are so good. I mean really really good." Savory ham, creamy Swiss, and all that intense flavor from the buttery Worcestershire sauce. The rolls stay really fresh, but have a slight crunchy crust from baking. They are insanely good. A little messy on the fingers, but that's where you can put into action "finger lickin' good!" See the bottom of the recipe for make ahead directions to make this already simple dish even easier.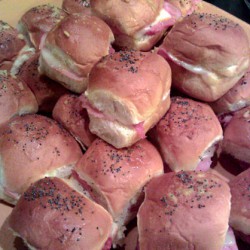 Ham & Swiss Sliders
Ingredients:
Sliders
24 hawaiian sweet rolls
24 pieces deli ham (I prefer plain cooked, but honey ham works too)
24 small slices Swiss cheese
Mayonnaise, optional
Topping
1 1/2 tbsp. yellow mustard
8 tbsp. butter, melted
1 tbsp. dried minced onion
1/2 tsp. Worcestershire sauce
Poppy seeds
Directions:
1. To assemble the sandwiches, spread a bit of mayonnaise (optional) on one side of each roll. Place a slice of ham and a slice of Swiss inside of each roll. Close rolls and place into a large baking dish or heavy cookie sheet. Place close together.
2. For the sauce, in a medium bowl, whisk together all of the sauce ingredients, except the poppy seeds. Pour evenly over all of the sandwiches. Sprinkle with poppy seeds. Cover with foil and bake at 350 for 10 minutes or until the cheese is melted. Uncover and bake for 2 additional minutes. Serve warm.
Make ahead directions: Assemble the sandwiches up to a day ahead. Store in the refrigerator until ready to bake.