Bourbon Bacon Chex Mix. Sounds like the best thing you'll ever eat, right? Well, it is! Last weekend I was in Tuscaloosa, Alabama, for the big Alabama/Arkansas matchup. My cousin-in-law, Philip, puts this shindig together every two years, and boy can he plan a party! While his Razorbacks weren't victorious that day, this party was certainly in my top 5! I don't think there was ever a moment where I wasn't shoveling food in my face, and I definitely can't complain when it's a Bama victory.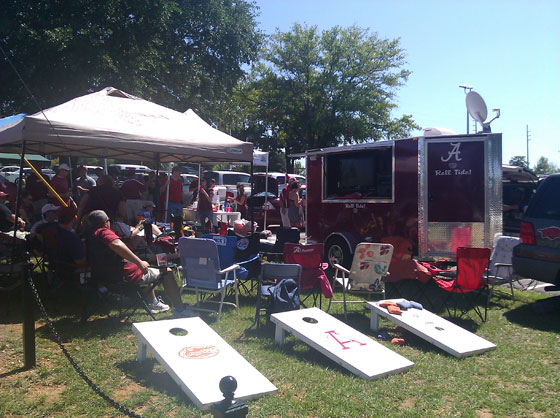 cornhole, tailgate trailer with TV
big Arkansas made his debut this year after Big Al towered over little Arkansas two years before
I brought this Chex Mix and it was a huge hit! Sure to be a crowd pleaser and pretty easy to make, although messy (but who minds a little bacon grease on your hands, right?).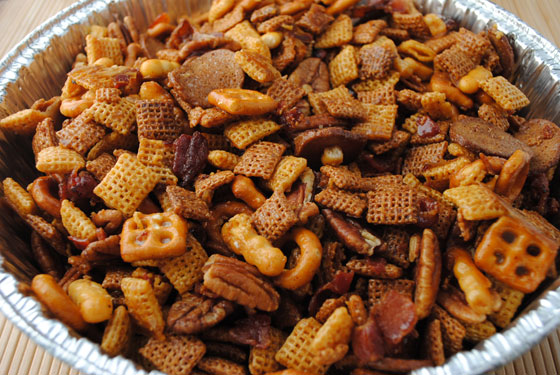 So, how's it taste?
This Chex Mix is addicting. I don't care how full I got, I was still making room for this. It's the traditional flavor of Chex Mix, which is deliciously savory, but the coating of this recipe is sweet and spicy. It's a flavor explosion in your mouth with crunch. Butter, brown sugar, corn syrup…you know this is going to be good! I almost substituted regular chili powder for the chipotle chili powder but DO NOT DO IT! I had never heard of chipotle chili powder until this recipe and it's now my new obsession. Smoky and spicy, it smells like heaven and tastes even better. That mixed with the sweet and savory, plus BACON and BOURBON and PECANS. It's awesome. That's why I'm screaming at you in all caps in this post. I used Jack Daniel's in my version so technically it's whiskey bacon Chex Mix, but feel free to use your favorite bourbon/whiskey. You could also use mixed nuts, or peanuts, or whatever nut combination you like instead of the pecan halves.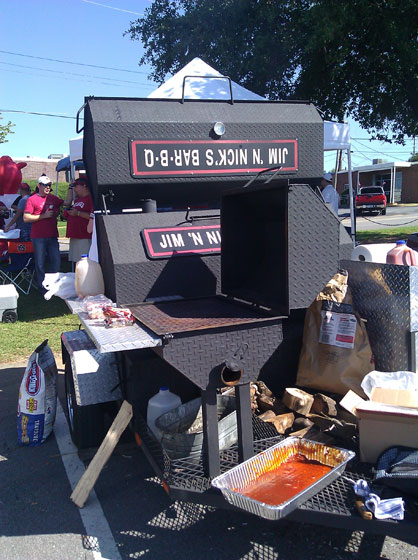 There's always going to be some good eats when Jim 'N Nick's show up!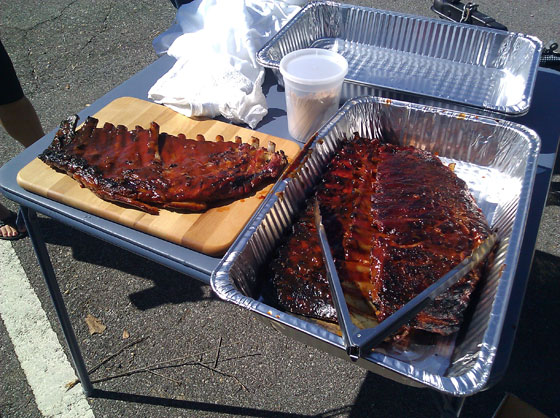 Mmm, ribs!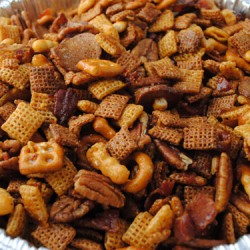 Yield: 20 servings (1/2 cup each)
Bourbon Bacon Chex Mix
Ingredients:
1 bag (15 oz.) Chex Mix® traditional snack mix
1 cup pecan halves
1/2 lb. bacon, crisply cooked and crumbled
1/2 cup packed brown sugar
1/2 cup butter
1/4 cup light corn syrup
2 tbsp. bourbon (or whiskey, I used Jack Daniel's)
3/4 tsp. chipotle chili powder
Directions:
1. Heat oven to 300°F. Line two 15x10x1-inch pans with foil. Spray foil with cooking spray. In large bowl, mix snack mix, pecans, and bacon. Set aside.
2. In 2-quart saucepan, heat brown sugar, butter, and corn syrup over medium heat, stirring occasionally, until bubbly around edges. Cook 5 minutes, stirring occasionally; remove from heat. Cool 2 minutes. Carefully stir in bourbon and chipotle chili powder. Pour over snack mixture; toss until evenly coated.
3. Spread snack mixture on pans. Bake 15 minutes, stirring every 5 minutes, to caramelize mixture. Cool completely, about 1 hour. Break into pieces.
per serving: 230 calories, 12g fat, 24g carbs, 1g fiber, 3g protein