I love finger foods and any excuse to make a yummy appetizer. Instead of sitting down to a meal, I like to graze and try different small bites. It's satisfying to get a taste of several different flavors and textures than eating the same bite over and over. That's why I love parties and I especially love them when bringing a dish is involved. I couldn't wait to make these Apricot Pepper Jack Tarts. With only a few ingredients, these spicy, sweet tarts were ready in no time.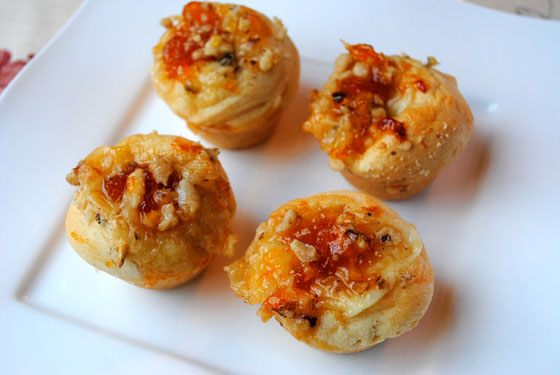 So, how's it taste?
I really liked the combination of the sweet apricot preserves with the spicy pepper Jack. The pecans added a nuttiness and crunch to balance the soft crescent roll. I did think these were a bit too bready though. I wanted a lot more filling and a lot less of the crescent roll, but they were still really good. I'd make them again using a smaller amount of the rolls. They really puff up during baking and a lot of the filling spilled over, but while it was still hot out of the oven I scooped the filling back into the cups. So again, I think they'd work better with less roll in each cup. The taste is so good and the recipe so simple that it's worth making again with some tweaks for my next party.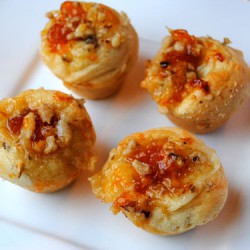 Apricot Pepper Jack Tarts
Ingredients:
2 cans (8 oz. each) crescent dinner rolls (8 rolls each)
1 cup (4 oz.) finely shredded pepper Jack cheese
1/4 cup apricot preserves
1/4 cup chopped pecans
Directions:
1. Heat oven to 375°F. Spray 24 mini muffin cups with cooking spray.
2. Unroll each can of dough into a large rectangle; press perforations to seal. Cut each rectangle crosswise into 12 strips, about 1 inch wide. Place each strip in muffin cup, pressing dough to cover bottom and side, making sure all seams are sealed and forming 1/4-inch rim above cup.
3. Spoon 2 teaspoons cheese into each cup. Top each with 1/2 teaspoon preserves and 1/2 teaspoon pecans.
4. Bake 14 to 20 minutes or until crust is deep golden brown. Cool 5 minutes; remove from pan. Serve warm.