Let me first apologize to anyone (like myself) that is trying to eat healthier/lighter now that the holidays are over. I have tons of food from the holiday feasting to catch you up on, so my next several posts aren't going to be anywhere close to figure-friendly. I'm especially looking at you, Tex-Mex Pimento Cheese Dip! I took this to a Favorite Things party and it was a success. It's cheesy, it's greasy, and absolutely addicting. Thighs, look out!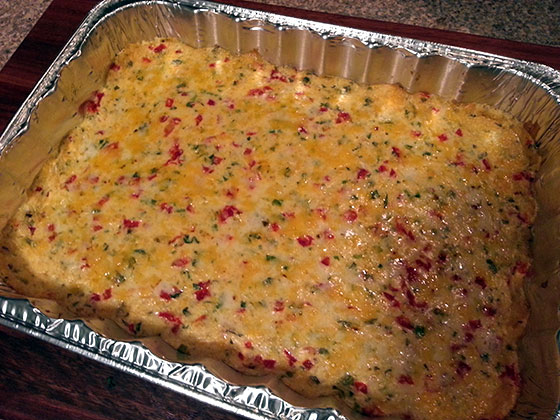 So, how's it taste?
I was so in the mood for a good, cheesy dip when I was figuring out what to bring to the party. I almost brought my standby, 7-Layer Mexican Dip, but felt it was time to branch out and find something new. I landed on this tex-mex dip, and so very glad I did. It's FULL of cheese. There's sharp Cheddar and Pepper Jack, but also cream cheese. It gets a slight kick from the Pepper Jack and jalapenos, but it's not hot at all. You could add more jalapenos or hot sauce or red pepper flakes if you wanted more heat. Once your cheeses are grated and peppers chopped, it's pretty simple to throw together. I do encourage you to buy the blocks of cheese instead of the pre-grated stuff, if you aren't pressed for time. (Interesting how I had time to grate all that cheese, but not to take a decent photo. Pffftt!) I almost left out the cilantro since I knew cilantro-haters would be at the party, but after tasting it without, it needed it. Funny thing is I couldn't distinguish the cilantro in the final product, but it did give it a little something it was missing. The red and green from the peppers make it such a festive dish, too. I warn you, though, it's greasy. We laughed at how it slid all over our plates! You know it's the good stuff when a blob of melted cheese won't stick to a plate!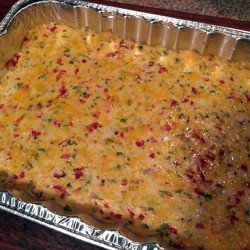 Yield: about 4 cups
Total Time: 35 min
Tex-Mex Pimento Cheese Dip
Ingredients:
1/2 cup mayonnaise (I used reduced fat)
6 oz. cream cheese, room temperature
12 oz. jar roasted red bell pepper, chopped
2 jalapeno peppers, seeds and ribs removed, chopped finely
8 oz. extra sharp Cheddar, grated
8 oz. Pepper Jack cheese, grated
1/3 cup minced scallion (2-3 scallions)
1/3 cup minced fresh cilantro, plus more for garnish
salt and pepper to taste
tortilla chips, for serving
Directions:
1. Preheat the oven to 350F and lightly grease a 2-quart baking dish or a 9x13 baking dish.
2. In a mixer, combine all the ingredients for the dip, reserving 2 tablespoons of each cheese for topping. Mix well and adjust any seasonings, if necessary. Spoon mixture into prepared dish.
3. Sprinkle with the reserved cheese and bake 20-25 minutes, until hot and bubbly. Garnish with additional cilantro, and serve with tortilla chips.
Note: This dip is also great without baking. Use as a spread on crackers or toasted baguette slices.