What's a piquanté pepper you ask? Only the most delicious, bite-sized pepper out there. I first had one at Rumba here in Nashville and fell in love instantly. These Stuffed Piquanté Peppers are tiny bites of heaven. It's a South African pepper that is mild, sweet, tangy, and just a smidgen of heat. Add cream cheese and goat cheese in the mix and it's sensational. The perfect appetizer for popping in your mouth.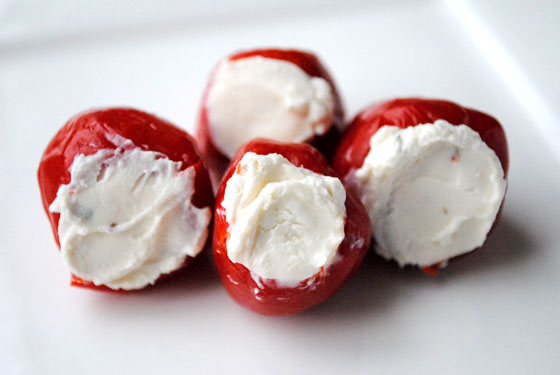 So, how's it taste?
I couldn't get enough of these when I first had them. At Rumba, they serve them with a sprinkling of chorizo. The flavor possibilities are endless. I'm not the only one in Nashville that loves a good piquanté pepper. Beth over at Eat. Drink. Smile. also found these gems at Rumba and recreated them on her blog. Following her lead (she brought them to a party and they were sooo good), I just had to make them. I decided to mix the goat cheese with chive and onion cream cheese. I wanted the filling to have more than goat cheese and being too lazy to chop chives, I thought the flavored cream cheese was the way to go. It turned out pretty spectacular. I used the juice from the pepper jars to thin out the filling just a tad as it was quite thick. The cool, creamy filling goes perfectly with the peppers. It's a flavor explosion for your taste buds in one little bite!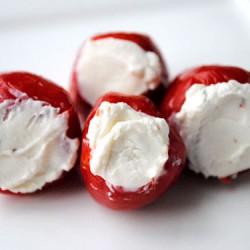 Yield: about 50-60 appetizers depending on how many are in your jar
Stuffed Piquanté Peppers
Ingredients:
2 jars piquanté peppers
8 oz. chive & onion cream cheese
4 oz. crumbled goat cheese
Directions:
1. Drain the jars of piquanté peppers, reserving about a tablespoon of the liquid. Set aside.
2. Mix cream cheese and goat cheese together, adding a bit of the reserved piquanté pepper liquid until it reaches a smooth consistency, thin enough for stuffing.
3. Stuff each piquanté pepper with filling. Amount may vary depending on the size of the pepper.
*Note: I like to spear them with a toothpick for easy grabbing when serving, but to keep them pretty, you can omit that step.