Let me set the scene. You see a recipe you want to make, you buy all the ingredients, you make the recipe, you have a ton of random ingredients left over. This is my life. My pantry is filled with recipe ingredient leftovers. Items I wouldn't normally buy, so if the recipe doesn't use all of it, there it sits. Remember those awesome Double Decker Apricot Turkey Sandwiches? Yeah, guess who has bags of dried apricots leftover? Enter Cream Cheese Stuffed Apricots! Not something I would have normally made, but I'm glad I did. These little bites would be a perfect addition to any cheese plate and definitely something different.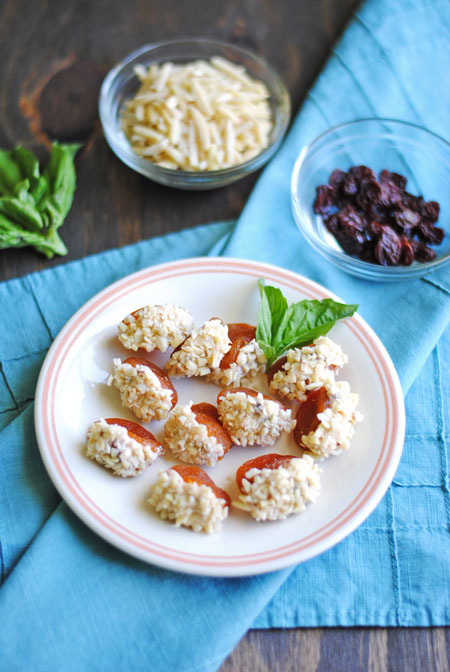 So, how's it taste?
The original recipe called for adding amaretto, but after reading the comments that it was too strong, I decided to use milk to thin the cream cheese and honey to up the sweet factor. Success! I kept popping these snacks right and left. The apricot is slightly tangy and you get the sweet cheese filling with chunks of dried cherries and crunchy almonds.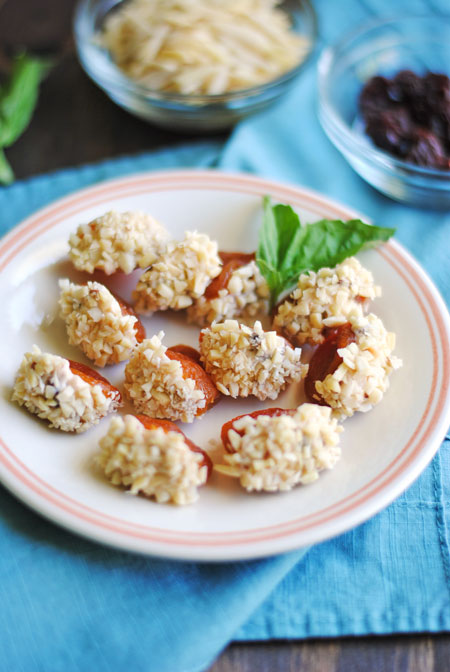 I'm lazy, so I didn't bother to toast my almonds. They were fine without toasting, but would be much better toasted. You could use pecans, if you like, too. I really loved how these turned out and they're so different from what you'd normally find on a cheese plate or at a party.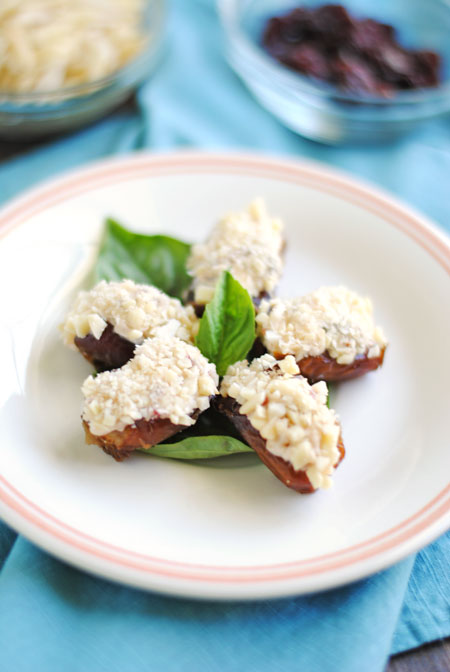 I also stuffed some dates (of course I had some leftover from another recipe!), just to see if they would be good. They were, but really really sweet. I liked the apricots better. So if you're like me and need to use those leftover dried apricots…throw a party and serve these cuties! Ooo, I think I just created something. I'll throw a random ingredient party when my pantry gets out of hand! 😉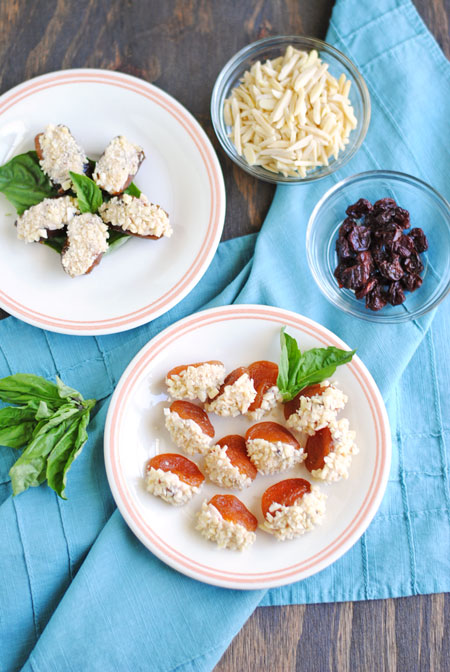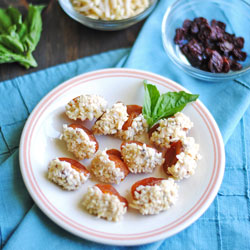 Yield: 30 appetizers
Prep Time: 20 min
Total Time: 1 hr 20 min
Cream Cheese Stuffed Apricots
Ingredients:
4 oz. cream cheese, softened
1/3 cup slivered almonds, toasted, chopped*
1/4 cup chopped dried cherries or dried cranberries
1 tbsp. milk
1 tbsp. honey
30 soft whole dried apricots
*Note: To toast nuts, bake uncovered in a shallow, ungreased pan at 350F for 6 to 10 minutes, stirring occasionally. They're done when they're light brown.
Directions:
1. In small bowl, mix cream cheese, 1/4 cup of almonds, cherries, milk, and honey with spoon. Spoon into small resealable food-storage plastic bag. Cut 1/2 inch off 1 corner of bag.
2. With fingers, open apricots along one side so they resemble partially open clamshells. Pipe about 1 teaspoon cheese mixture into each apricot.
3. Finely chop remaining almonds. Dip cheese edge of apricots into almonds. Refrigerate 1 hour before serving to chill.