Back in December when my mother and I had our marathon cookie baking day, she bought a big jar of peanuts for one of our cookie recipes. We barely used any of the peanuts and since someone accidentally bought unsalted, they weren't exactly on the top of our snack list. No problemo! With a few flavorings and spices, I knew I could turn these into something yummy. Remember those macadamias? Let me introduce you to Smoky Spicy Peanuts!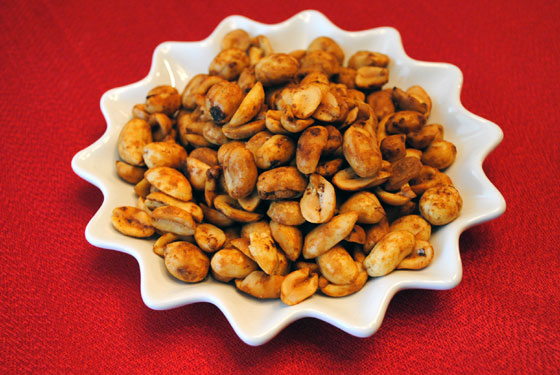 So, how's it taste?
These turned out way better than I expected. There's really not that many ingredients and it's especially skimpy on the spices, so I was thinking these might end up being ho-hum. Wrong! There's a lot of flavor going on. Don't get worried when you're mixing them and you think your nose hairs might fall out. The Worcestershire, liquid smoke, and vinegar make for some extreme vapors. They mellow out a lot when baking. I didn't have any cayenne on hand, so I substituted chili powder and they were outstanding. I baked these close to the time that my mom was coming home from work and she thought I was cooking barbecue! That's exactly how they taste, like barbecued peanuts with zip! Perfect for turning boring peanuts into something worth snacking on.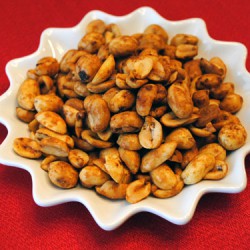 Smoky Spicy Peanuts
Ingredients:
4 cups shelled raw peanuts
2 tbsp. plus 2 tsp. Worcestershire sauce
2 tbsp. plus 1 tsp. liquid smoke flavoring
1 tbsp. olive or peanut oil
1 tbsp. plus 1 tsp. distilled white vinegar
1 tbsp. plus 1 to 2 tsp. Tabasco sauce, to taste
1/2 tsp. cayenne pepper (or use chili powder if you don't want the heat)
1 tbsp. plus 1 tsp. kosher salt
Directions:
1. Preheat the oven to 250. Line a baking sheet with parchment paper.
2. Place all the ingredients in a large bowl and toss until the peanuts are well coated
3. Transfer the nuts to the prepared sheet and arrange in a single layer. Place in the oven and bake, stirring occasionally, until the nuts turn a deep golden brown, 20 to 30 minutes.
4. Remove from the oven, immediately loosen the nuts with a metal spatula, and set aside to cool for at least 4 hours and up to overnight.