This is a recipe I have been making for years. I can't remember the first time I made 7-Layer Mexican Dip or where it came from, and I've tweaked it here and there along the way. It's become one of my go-to recipes whenever I need something delicious to bring to a party. I think a lot of people have a version of this dip. I've seen it with guacamole as a layer, as well.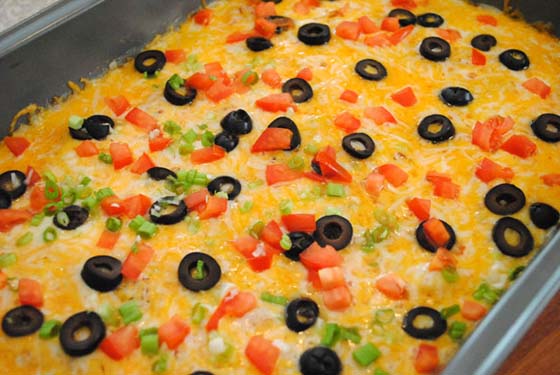 So, how's it taste?
Incredible! I have eaten this dip so much, and I never get tired of it. I used to keep the sour cream layer just sour cream, but several years back a friend of mine made his version by mixing in taco seasoning. Ooo wee! Now it's how I make my version, too. I've used regular and chipotle taco seasoning and both work very well. The chipotle adds a nice smoky flavor. It's hard to go wrong with refried beans, cool sour cream, and melted cheese. All the layers combine perfectly into a creamy dip that is so good on a crunchy tortilla chip. This dip always gets rave reviews and is simple to put together right before the party. Enjoy!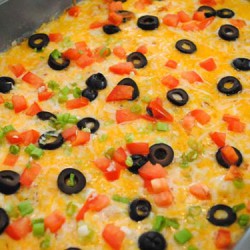 7-Layer Mexican Dip
a So, How's It Taste? original recipe
Ingredients:
1 - 16oz. can refried beans (regular or fat free)
8 oz. sour cream (regular or light)
2 tbsp. taco seasoning (regular or chipotle)
3/4 cup salsa
8oz. (2 cups) shredded cheese (I use colby jack or Mexican four cheese)
1 large tomato, chopped
3 green onions, chopped
1 - 2.25oz. can sliced black olives
Directions:
1. Spread beans into a 9x13 pan. In a small bowl, mix taco seasoning and sour cream. Spread mixture over beans.
2. Dollop salsa by spoonfuls over sour cream. Sprinkle with cheese. Top with tomatoes, green onions, and black olives.
3. Bake at 350 until the cheese melts. Serve warm with tortilla chips.